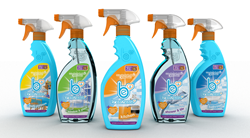 During development over 90% of asthmatic panelists reported improved respiratory effects..."
Christchurch, Dorset (PRWEB UK) 7 May 2014
A report released yesterday (6 May 2014) for World Asthma Day into the severity of asthma in the UK makes for alarming reading. So common is asthma nowadays that it is taken with a pinch of salt and regarded as part of life, but that dismissal is risking lives.
The daunting statistics quote that in the UK, three people die from asthma every day and every 10 seconds someone suffers from a potentially life-threatening attack says Asthma UK. It also identified major avoidable factors in two-thirds of the people who died.
Over 5 million people in the UK suffer from Asthma meaning tasks that some take for granted can leave others breathless, wheezing or reaching for an inhaler. So it goes without saying that knowing what triggers an attack is vital in the prevention of one.
Breathease asthma and allergy friendly cleaners are the only range specially formulated to help asthma and allergy sufferers. Independently tested and proven by experts at Allergy Standards to help reduce surface and airborne allergens, breathease is the first UK cleaning range to have earned the Asthma and Allergy Friendly accreditation. Unlike other household cleaners containing allergens that don't have to be listed on the label, breathease delivers ultimate peace of mind and leaves your home sparkling clean and smelling fresh.
Dr Anne Hilton, Technical Director and responsible for innovation of the range at Solent Group quotes "During development over 90% of asthmatic panelists reported improved respiratory effects versus their usual cleaning products. Not only that, they perform too"
With five products in the range, breathease strives to be an additional measure in asthma sufferers avoidance regime and helps prevent against attacks which could be life threatening. With a non-irritant formula, the products are designed to help consumers cope with today's challenges – whether asthma is an issue or consumers are seeking high performance products with no nasties. With this latest report wakening the country up to the reality of asthma, breathease urges consumers not to be complacent about triggers in the home.
The range is supported by Asthma UK, the UK's leading Asthma Charity and many mummy bloggers, giving consumers an extra vote of confidence.
In support of Allergy Awareness Week (29/4-4/5) and Global Asthma Awareness Day (6 May), breathease is on offer in Tesco from 6th May down to £2.
So don't just clean – breathease clean.