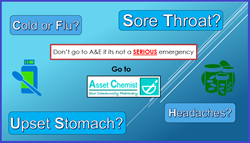 Dont go to A&E or your GP if its not a serious emergency, Go to asset chemist!
Essex (PRWEB UK) 22 May 2014
A pharmacy in Tilbury is asking locals to stop and think before visiting their GP or A&E after statistics revealed that an estimated 50 million people visit their GP with minor ailments each year.¹
Asset Chemist has joined a nationwide campaign, 'Ask Your Pharmacist', to help save locals time and reduce pressures on NHS services in Tilbury. The campaign is part of the All About Health programme, which promotes healthy living in the community.
Local pharmacist Yomi Adenaike said minor ailments such as coughs and colds, mild eczema and athlete's foot were just some of the complaints people visited their GP about. He said this cost the NHS £2 billion every year which simply was not sustainable.¹
Yomi said: "Many people don't realise their local pharmacy can support with a number of minor ailments.
"We want to help locals manage their health effectively so when they feel under the weather we're asking people to visit their local pharmacy as a first port of call."
Yomi said finding the right help could be more difficult for busy mums. He said a recent survey by All About Health found that mums in Essex spend on average 54 hours a week cooking, cleaning, washing and keeping up the family's healthcare needs. As a result, time-poor mums are left feeling stressed when illness strikes and 1 in 5 go straight to their GP to try to resolve symptoms.2
Yomi says "Mums are often the ones who look after the health of the family by ensuring the medicine cabinet is topped up, dishing out medication to poorly children and taking children to health appointments. When time is short it's important to be able to access healthcare advice quickly.
"Pharmacy is well placed to offer information and support when making health decisions. Children's fever, coughs and colds, ear ache and sprains are just some of the ailments we can offer expert advice and treatment for. With no appointment necessary this can be a convenient source of help for parents who are looking for speedy reassurance and support for their little ones. We are also open 100 hours a week to make it as easy as possible for people to fit in a visit.
"The http://www.allabouthealth.org.uk website provides a handy A-Z ailment list to help people make the right choice in seeking medical advice."
For more information or for advice on a range of minor ailments visit Asset Chemist online or store, 128 Dock Road, Tilbury, RM18 7BJ.
The Asset Chemist web site also features general healthcare products, online doctor prescription service, interactive health tools and allows people to keep track of their health.
Statistics from:
1. NHS Choices
2. One Poll survey of 2,000 mums of under 18s