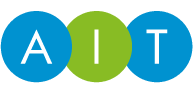 Exciting times for AIT Ltd as they complete their re-branding and continue to embrace new technologies and expand their customer base.
Leeds (PRWEB UK) 7 May 2014
We are proud to announce that the final step in our corporate re branding project is now complete with immediate effect we will be operating as AIT Ltd.
This final step completes a three year transition plan that was put in place when Altman Technologies and ICS Ltd merged in late 2010. This comes at a time of significant and exciting expansion for the business.
The company will continue to operate with the current structure and contacts will remain the same. At this time we will be changing our website address to http://www.ait.co.uk and company email addresses will become firstname(dot)lastname(at)ait(dot)co(dot)uk. Our old email addresses will remain operational during the transition period and our http://www.altman.co.uk domain will now redirect to the new AIT website.
The new version of our logo is available. If you would like a high-res copy of this please let us know by emailing solutions(at)ait(dot)co.uk.
These are new and exciting times for AIT Ltd where we are embracing new technologies to help expand our customer base and secure the company's future growth.
PRESS CONTACT:
Email: liz.marshall(at)ait(dot)co.uk
Web: http://www.ait.co.uk
Tel: 0113 273 0300
About AIT Ltd
In November 2010, Altman Technologies merged with Integrated Card Solutions Ltd to become AIT Ltd, the leading independent provider of print and copy management solutions in the UK and Ireland. We offer unrivalled functionality and provide national on-site engineering and support services. We also offer Access Control, ID solutions and integration as well as email and web security services.
AIT Ltd has built an extensive customer base spanning commercial, corporate, financial, and public sectors with over 60% of further and higher education organisations using their technologies. All solutions are offered on a free trial basis, ensuring a risk-free approach for prospective customers, with benefits proven before any commitment is required.