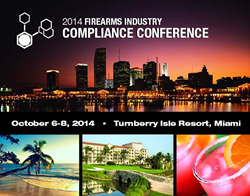 We are excited to deliver the first and only conference to assist Manufacturers and Dealers with impactful contact on ATF Compliance and supply chain economics. Speaker submissions will most likely be chosen on topics that advance the industry.
Hartford, CT (PRWEB) May 08, 2014
Orchid Advisors, the only management consultancy dedicated to the firearms industry, announces its Call for Speakers for the first compliance conference for all Federal Firearms Licensees (FFLs). The 2014 Firearms Industry Compliance Conference, to be held October 6-8, 2014 at the Turnberry Isle Resort and Club in Aventura (Miami), Florida, is accepting speaker submissions through May 30, 2014.
Presenter topics are expected to follow the main session tracks:
•Firearms Supply Chain and Industry Economics
•Best Practices - Manufacturing and Import Compliance
•Best Practices - Distributor and Dealer Compliance
•Best Practices - Technology for all FFL Types
•Preparing for and Excelling at ATF Inspections
The conference will provide leading compliance practices for each FFL type -- from manufacturing to distribution to retail, including importers, freight handlers, and wholesalers. "We are excited to deliver the first and only conference that provides licensed Manufacturers and Dealers with impactful content on critical regulatory areas such as:
•Federal ATF Regulations including both GCA and NFA Type Firearms
•State Firearm Regulations
•And international topics pertaining to AECA, Import, Export and ITAR
"Speaker submissions will only be chosen if the content is designed to advance industry initiatives," Orchid Advisors CEO Rydberg says. "They should delve into those issues that have the greatest impact on operational supply chain efficiencies, long-term economic trends and sustainable compliance models. For example, how will variances impact manufacturers now and in the future, and what ATF compliance trends need to be considered at your FFL?"
The conference has already confirmed accomplished industry executives such as Robert Cicero and Mark Smith, General Counsel and VP of Operations at Smith & Wesson, respectively, as keynotes for the event. Other industry leaders have elected to speak on topics such as:
•Economic projections for the firearm industry
•Using eForms to Enhance Efficiency and Accuracy
•Trends in Serialization and Scanning Technology
•The Electronic A&D Book for IT Professionals
•Implementing a World-class Serial Number Inventory Program
•ATF Inspection Success
•Trends and Projections in ATF Compliance
•Best Practices in Manufacturing and Import Compliance
•Benchmarking Your ATF Compliance
•Import, Export and ITAR - The 10 Things You Must Know
•Serial Number Mastery
•Managing the Manufacturer/Subcontractor Relationship and the Impact of Variances
•Federal Excise Tax and the TTB
•Best Practices in Distribution and Retail Compliance
•You Started as a Mom & Pop Dealer - Now What?
•Demonstrating Distributor Leadership
•Mastering the POS and 4473 Transaction
Invitations will be extended directly to selected individuals. Session suggestions and speaker recommendations should be submitted online (https://www.etouches.com/eselect/firearmsindustrycompliance2014) prior to May 30, 2014; speakers will be notified by early June.
Orchid Advisors will host exhibitors and sponsors at the conference and encourages all companies that develop and apply technologies, compliance, and compliant supply chain solutions for the firearms industry to explore exhibit and sponsorship opportunities at the 2014 Orchid Advisors Firearms Industry Compliance Conference. For more information, contact Danny Briere at 1-855-ORCHID-0.
More information about the conference can be found at: http://www.orchidadvisors.com/firearmsupplychain2014.
About Orchid Advisors – Transforming the Compliance EcosystemTM
Orchid Advisors is a strategic management consultancy focused on transforming the worlds of operations, technology and compliance in selected industries. Our initial entry market is the Firearms Industry where Orchid serves more major manufacturers than any other consulting firm. Orchid clients hire the firm to help reinvent business processes, implement technology solutions to support that change, and strategically plan and monitor resulting sustainable audit and compliance cultures in their organization. Orchid Advisors bring the depth and breadth of Big Four consulting with the innovation, thought leadership, and economies of a boutique analyst firm. For more information, see http://www.orchidadvisors.com.