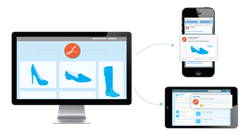 To be one of the first to use such Twitter's Tailored Audiences for cross-platform retargeting is yet another way adconnection have helped us gain first-mover advantage.
(PRWEB UK) 6 May 2014
adconnection, the leading independent media planning and buying agency, has recently launched a cross-device retargeting campaign for Lovestruck.com, achieving record results so far.
Working as a BETA partner with AdRoll, adconnection were able to use Twitter's Tailored Audiences to target users who have not yet converted by matching cookies on Lovestruck's desktop site to their Twitter and Facebook profiles. Ads were then served to the same users' Twitter profiles across all devices including laptops, mobiles and tablets.
Preliminary results have achieved Twitter mobile retargeting engagement rates up to 6x greater than Facebook desktop newsfeed retargeting, and a 25% reduction in initial acquisition costs compared to other retargeting strategies.
Jack Reynolds, Media Manager at adconnection said "Effective retargeting is essential for maximising on site conversion rates. Being a BETA partner with AdRoll has allowed us to deliver a cross-platform retargeting approach for our clients, giving them a strategic advantage over their competitors whilst capitalising on their audience's distinctive consumption habits. With our advanced tracking tools we will continue to optimise and build on the encouraging initial results already achieved."
Brett Harding, MD & Co-founder at Lovestruck added, "To be one of the first to use such Twitter's Tailored Audiences for cross-platform retargeting is yet another way adconnection have helped us gain first-mover advantage – an essential component to Lovestruck's success."