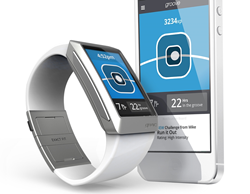 The Groove Watch is for more than just athletes; it is designed for anyone striving to make a healthy lifestyle a priority.
Seattle, WA (PRWEB) May 08, 2014
Groove Tech, a startup company out of Downey, CA and Seattle, WA, has announced the release of their first product on IndieGoGo, the Groove Watch. The Groove watch is a personal fitness assistant, a hybrid between a smart watch and fitness band that helps users build, monitor, and stay accountable for a healthy routine and lifestyle. The Groove Watch is for more than just athletes; it is designed for anyone striving to make a healthy lifestyle a priority.
The impetus for introducing a product in an already crowded space was driven by Steven Suri, the company's founder, and his desire to create a fitness device that integrated technology in a more meaningful way. Having battled and overcome personal health issues, Steven understood it took more than numbers to change healthy habits. He states, "it takes understanding, discipline, and great support; all of which became the driving forces behind Groove." He is confident that this new ecosystem will keep the Groove Watch out of the "gadget junk drawer" that most other fitness trackers find themselves in.
Over the last year Steven, based in Downey, has worked with a team of designers and engineers in Seattle to develop his concept. Besides many of the standard features found in today's smartwatches, the Groove Watch features the MotivEngine and ActivLight System.
The MotivEngine is a collection of sensors and algorithms that track and learn a user's habits and activities. The watch creates a virtual map of the user's body and then uses various sensors to detect different types of movement and intensity to generate a score. This score is utilized to keep users within the range of activity necessary to reach their pre-defined goals. The score also helps a user understand, at a glance, the status of their health and whether or not they are sticking to their routine, completing challenges and reaching their goals.
The Groove Watch also features the ActivLight System that visually displays various status and notifications through a unique, internally lighted band. Users have the ability to control the colors and decide how to be notified.
Steven and his team are now in the later stages of design and development and seeking additional funding to commercialize the product. Their IndieGoGo campaign runs till the end of June and they are hoping to raise $200,000.
For more information about Groove, visit the product website at http://www.weargroove.com.