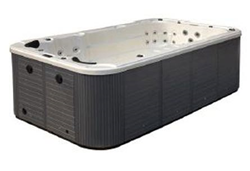 (PRWEB) May 06, 2014
XC Spa is famous for its high quality outdoor spa pools, which have been distributed throughout the world. Today, the company announces its new products, which are offered at discounted prices until May 31, 2014.
XC Spa's outdoor spas are well-known in the industry. The company is backed by some of the biggest names in the spa industry. Its premium customer service, high-quality, fast delivery, and low prices, have attracted many clients to choose XC Spa.
XC Spa is a well-known company in the designing and manufacturing spa products, and its products consist of far infrared sauna, outdoor spa pools and more. These models come in many different designs. For example, its hot tub 812 is designed for 1 person to lie and 5 persons to sit inside while enjoying the massage and spa.
"We are excited to release new models and launch this promotion. As a reliable spa manufacturer and supplier, we buy materials directly from original suppliers to ensure you get the spa products backed by a comprehensive manufacturer warranty. We have everything to ensure client satisfaction," the CEO of the company says.
The CEO adds, "If you are looking at purchasing a hot tub or an outdoor spa, take advantage of this special offer. We provide expert advice you'll not find anywhere else. Our spa is a little different to others you might have visited. Our focus is your holistic wellbeing and the nourishment of your mind."
About XC Spa
XC Spa is a ISO9001:2000 certified company offering a wide range of Spa products, especially hot tubs, outdoor spa and swimming spa tubs. The company's products go through a strict quality-control process, and they are resistant to weathering, warping and scoffing. Premium product quality and great customer service are the reason that their products are widely recognized by the customers worldwide.
For more information, please visit: http://www.xcspa.com/outdoor-spa/outdoor-spa-837.html