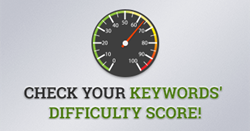 The new Keyword Difficulty tool in Rank Tracker allows one to factor in all the key parameter and to assess keyword competition with a push of a button.
Minsk, Belarus (PRWEB) May 07, 2014
Marketing software developer Link-Assistant.Com has introduced a new metric - Keyword Difficulty score - to its keyword monitoring tool, Rank Tracker. The new feature is aimed at facilitating SEO niche research: it lets marketers see at a glance how hard it would be to rank on Google for particular keywords.
Thorough competition research is performed by scrutinizing top 10 sites ranking for each search term. This is done before an SEO specialist begins fine-tuning a website for certain keywords. Each competitor is analyzed against an extensive set of SEO metrics such as their on-page SEO tactics, backlink profile, domain factors, and more.
The new Keyword Difficulty tool in Rank Tracker allows one to factor in all the key parameter and to assess keyword competition with a push of a button.
The Keyword Difficulty score formula
Link-Assistant.Com does not disclose the exact formula used to calculate the new Keyword Difficulty metric. However, it mentions certain key ingredients Rank Tracker takes into account to provide the score:

A competitor's Google PageRank (page- and domain-level)
The number of backlinks a competitor has (page- and domain-level)
A competitor's on-page optimization rate
A competitor's Alexa Rank
A competitor's social signals
The age of a competing page, etc.
To assess the Difficulty score for one keyword, Rank Tracker singles out top 10 websites and analyzes each one of them.
More information on the new Keyword Difficulty feature is available at http://www.link-assistant.com/news/keyword-difficulty.html.
Other important Rank Tracker features
Besides allowing one to assess Difficulty score of keywords, Link-Assistant.Com's Rank Tracker serves other important functions. Primarily a rank tracking tool, Rank Tracker lets SEOs easily check rankings in over 300 search engines, track ranking progress over time and get new keyword ideas for one's site using 17 keyword suggestion methods.
Rank Tracker is part of Link-Assistant.Com bigger SEO pack, SEO PowerSuite that includes such SEO tools as SEO SpyGlass, WebSite Auditor and LinkAssistant. Rank Tracker is sold as an SEO PowerSuite constituent as well as a standalone SEO software piece.
*About Link-Assistant.Com*
Link-Assistant.Com is a software house with almost a decade's experience providing leading SEO tools for bloggers, SEO consultants and marketing agencies. Launched in 2005, the company's best-known toolkit, SEO PowerSuite, is presently used by over 500,000 people worldwide to make their website visible in search engines.
Keep abreast of the SEO industry – follow Link-Assistant.Com on Facebook fb.me/LinkAssistant, Twitter @LinkAssistant or Google Plus gplus.to/LinkAssistant and stay updated on the latest SEO news.
Free versions of all Link-Assistant.Com's tools are available on the developer's official site Link-Assistant.Com.