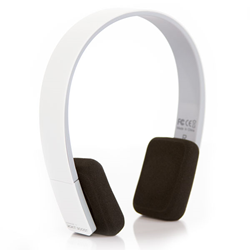 Rokit Boost Announces New Upgrades to SWAGE Bluetooth Headphones
New York, NY (PRWEB) May 07, 2014
Consumer demand for quality mobile accessories remains hotter than ever, and Rokit Boost is meeting the demand with first-rate products that complement today's most popular mobile devices and consumer electronic goods. Today, Rokit Boost announced that a series of upgrades had been added to its SWAGE Bluetooth headphones for greater functionality and consumer convenience.
The SWAGE Bluetooth headset has been upgraded with a Bluetooth 4.0 chipset for more efficient, wireless compatibility with the iPhone, iPad, Android smartphone, and a wide array of other mobile devices with wireless capability. With the greater Bluetooth capacity, the SWAGE now only requires three seconds for entering into pairing mode—half of the time the original SWAGE model required for syncing with mobile devices. If the SWAGE Bluetooth headphones already have been synced with a mobile device, they will auto-connect to the device without a hitch.
Crystal Clear Audio and Great Functionality
The SWAGE Bluetooth headphones also feature state-of-the-art noise-cancelling technology, which delivers to users an exceptional listening experience. With the headset's noise cancellation ability, users can listen to their favorite tunes as if they were listening to the songs being recorded in-studio.
The crystal clear audio and a built-in microphone enable consumers to enjoy seamless, uninterrupted, hands-free communication. A carefully-designed, intuitive button layout adds greater functionality to the mix, allowing for quick-and-easy use and playback-ability. With the button layout, there are no gimmicks, no complicated button mashing; just a couple of button pushes, and the SWAGE headphones are ready to go.
Built for Comfort and Lasting Value
The SWAGE Bluetooth headphones have a sleek, durable body that is easily storable and taken anywhere while on-the-go. Soft leather ear pads and a 4.8mm brush metal, part extendable headband allow for customizable and comfortable listening. For greater consumer value, the headphones offer 6 to 8 hours of playback time- reportedly one of the longer playback durations available on the market.
The SWAGE headphones also come with a one-year limited warranty and have received extremely favorable reviews from the online blogging community as well as on Amazon for their performance ability. The headphones can be purchased online at our website: http://www.rokitboost.com.
About Rokit Boost
Rokit Boost is a pioneer of affordable, high-quality mobile accessories. Whether they are innovations including iPhone charger cases, Bluetooth headphones, or wireless Bluetooth speakers/microphones, Rokit Boost's team seeks to add substantial enhancements to great existing products. The company also offers a refurbishment program of certified products for exceptional customer value, at reduced pricing.