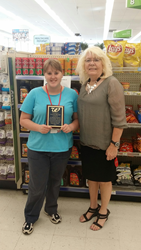 Waycross, Ga (PRWEB) May 07, 2014
When Jessica Harrell was a junior in high school she was referred to Easter Seals by her Vocational Rehabilitation Counselor, Paige Carter, to receive job-readiness classes. Then in Jessica's senior year of high school she was referred to Easter Seals again for Community Work Adjustment Training (CWAT). Jessica began her on-site training at Walgreens in Waycross, Ga. in February under the supervision of her Easter Seals Vocational Instructor, Carolyn Towns.
Jessica recently received an award for her demonstration of the Walgreens cultural beliefs. She also received a beautiful collage from Walgreens management in honor of her hard work and dedication. Jessica is very proud of her accomplishments and excited to be recognized in such an honorable way.
Easter Seals Vocational Services provides employment opportunities to individuals with disabilities or special needs by offering a variety of trainings and services to assist them in becoming work ready. Easter Seals Southern Georgia is a non-profit organization that has been providing community support services in the 54 counties in southern Georgia. For more information about Easter Seals Southern Georgia, go to http://southerngeorgia.easterseals.com. Contact Amy Martin in the vocational department if interested in placing individuals in your business call 229-439-7061.