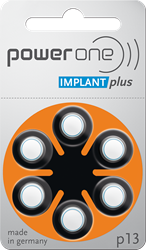 (PRWEB) May 07, 2014
VARTA Microbattery presented new hearing aid batteries at this year's AudiologyNOW! conference and exhibition in Orlando, Florida from March 26-29.
The power one wireless approved MERCURY-FREE Type 13 and 312 are the new hearing aid batteries that were designed for the latest generation of wireless devices and hearing aids as well as Bluetooth applications. More than 150 researchers and developers contributed to this remarkable product that is characterized by innovative cathode technology and constantly high voltage.
The product portfolio of the power one brand has also been expanded to include the power one IMPLANT plus Type 13. It provides an optimum hearing experience for hearing aids with high-power applications such as streaming.
Innovative and fully automated production lines of VARTA Microbattery engineers provide premium power, which is why power one is the brand that all the renowned hearing aid manufacturers trust around the world. The power one hearing aid batteries are produced in the world's largest, most modern hearing aid battery factory, utilizing environmentally sound processes that conserve resources. Every battery is 100% tested and provides perfect in-ear power.
You can find out more about power one hearing aid batteries and get to know the virtual world of power one online at http://www.powerone-batteries.com.
Contact for questions:
VARTA Microbattery Inc.
Diana Fogarty
555 Theodore Fremd Avenue
Suite C 304
Rye, NY 10580
(914) 570-2245
About VARTA Microbattery, Inc.:
Founded in 1887 in Germany, VARTA Microbattery is a global leader in the design, manufacturing, and marketing of an extensive variety of batteries and energy storage systems supporting long life under extreme operating conditions. Their American daughter company, VARTA Microbattery, Inc., is based in Rye, NY and serves as the North and South American headquarters. A pioneer in state-of-the-industry technologies, VARTA's products are widely employed in a broad array of OEM and retail markets including automotive, medical, computing, hearing aid, industrial and communications. From prototype to production quantities, VARTA provides standard, modified-standard and custom battery solutions for virtually any application and equipment. VARTA Microbattery GmbH is a Company of Montana Tech Components AG, Switzerland. For more information, visit http://www.varta-microbattery.com.