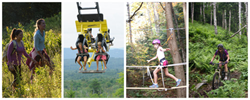 Montpelier, VT (PRWEB) May 06, 2014
Ski Vermont is ready to kick off summer fun in the Green Mountains. Vermont ski and snowboard resorts offer year-round activities and programs to get visitors outdoors and having fun. Whether seeking adventurous thrills, a family get-away, or a gorgeous game of golf, Ski Vermont resorts have something for everyone in spring, summer and fall.
Going Up? Going down? Fun is Waiting in the Green Mountains
Skiers and riders that miss the downhill thrills of winter can replicate the feeling with Ski Vermont's expanding mountain bike options and upgrades. Many resorts offer uphill access, rentals for beginners to experts, and well-maintained trails. Visitors can also enjoy extensive hiking, disc golf, and scenic gondola and lift rides. Check out the full list of hiking and biking options at Hiking and Biking at Vermont Ski Resorts.
Thrill Seekers and Tree Top Explorers Wanted
Adventure Parks combine fresh air and a physical challenge as thrill seekers explore the tree tops via a series of bridges, rope structures, ziplines, and more. In addition to tree top excursions, enjoy mountain coasters, trampolines, and rock climbing. With various activities and levels, Ski Vermont adventure parks are a great destination for families, couples, or groups looking for a fun, outdoor bonding experience. A full list of adventure programming can be found at Ski Vermont Adventure Parks.
Creative Camps to Entertain Every Kid
Want to get the kids outdoors this summer, trying? Enroll them in camp in Vermont's green mountains. Fresh mountain air, hiking, biking, tennis, swimming, kayaking, crafts, and just being a carefree kid are all on the agenda at Vermont ski and snowboard resorts. For more information on rates, dates, and fun check out Ski Vermont Summer Camps.
Friends, families, and couples flock to Vermont year-round, but there is no need to break the bank for a perfect summer vacation in the Green Mountains. Vermont ski resorts offer great lodging and adventure packages in the "off season." For a full list of packages and rates, visit Ski Vermont Summer Deals.
Golf news and Events are also available at http://www.skivermont.com.
Ski Vermont (Vermont Ski Areas Association) is a proud ambassador of the thriving winter tourism industry in Vermont, where the legislature has designated skiing and snowboarding as the official state sports. Vermont is not only the #1 ski state in the east and third in the US, but also reigns supreme in snowmaking quality and coverage, variety of terrain and historical impact on the sports of skiing and snowboarding - making it one of the most significant ski and ride destinations in the world. Ski Vermont's mission is to help create a legislative, economic and social environment in which the state's ski areas can grow and prosper. It serves its 18 Alpine and 31 Nordic member resorts in three major areas: Governmental Affairs, Marketing and Public Affairs.