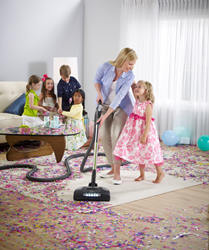 Charlotte, N.C. (PRWEB) May 08, 2014
Home improvement season is in full swing around. The Home Improvement Research Institute expects consumers will spend $390 billion globally this year for home remodeling and other improvements, an increase of 6.5 percent from 2013. Installing a built-in central vacuum system is one improvement that allows homeowners the freedom to enjoy messy moments. It gives them confidence they can clean up most any mess quickly, conveniently and thoroughly.
Here are 10 reasons to consider a central vacuum system for your home.
1. It improves indoor air quality. A BEAM Central Vacuum System by Electrolux is clinically proven to relieve allergies. It completely removes contacted dust, pet dander and other allergens from the living area to a collection canister in the garage, basement or utility room. It also exhausts outside the living area so no dust is stirred up during cleaning.
2. It's recognized or recommended by leading green building programs. Because a central vacuum system improves indoor air, installing one earns rating points from the top environmental homebuilding programs including LEED and the National Association of Homebuilders Green Building Standards.
3. It's less expensive than you think. You can purchase a central vacuum system and have it installed in your home starting at around $1,200.
4. It will outlast several portable vacuums. Replacing an upright or canister vacuum every 2-3 years is costly. Your BEAM Central Vacuum System by Electrolux will continue to keep your home clean long after the kids have moved out. In fact, the new BEAM Alliance System comes with a 15-year limited warranty.
5. It increases the value of your home. Appraisers estimate installing a central vacuum system can boost the value of a typical home by $2,500. And realtors have stated that a home with a central vacuum will sell faster or sell for a higher price than a similar home without one.
6. It's not just for new homes. There is no need to remove walls or ceilings because a BEAM Central Vacuum System can be retrofitted into almost any existing home in less than a day.
7. It makes cleaning deeper, faster and easier. Simply plug in the hose and start cleaning. Ergonomically designed hose handle and cleaning tools allow you to clean any surface, floor to ceiling, nearly effortlessly. And you won't have to worry about balancing a heavy portable vacuum on a narrow stair tread.
8. It's quiet. Twenty years ago, not so much. But new technology developed by Electrolux means the BEAM Alliance System can clean the entire house without disrupting other activities in the home. In fact, you can even clean the baby's room without waking her up.
9. It's versatile. A garage-installed central vacuum power unit means you can clean the inside of the car or boat or even the garage floor in a snap. A utility port on the unit itself allows a quick hose connection.
10. It talks. Innovative two-way LED communication between the BEAM Alliance power unit and the hose handle means you'll know how much power you are using at any time and when to empty the collection bucket. The power unit also includes a motion detector. You'll never be in the dark about your system's performance.
BEAM Central Vacuum Systems by Electrolux are available at independent installing BEAM dealers. To learn more or to locate a dealer, visit beam.com.