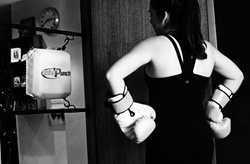 There's no easy way to setup a heavy bag inside of an apartment or house.
New York, NY (PRWEB) May 08, 2014
Quiet Punch will establish a new culture in the fitness world by offering the stress relieving qualities of boxing training to people with little to no experience and limited space. A three-piece boxing kit, Quiet Punch has been designed to be assembled quickly and allow the user to get a low-impact workout at home, without disturbing their neighbors.
With over 20 years of boxing and training experience, founder Brian Pedone designed, engineered and perfected Quiet Punch to meet the at home needs of the boxing market. "There's no easy way to setup a heavy bag inside of an apartment or house. They are loud, require a lot to setup, and are heavy," says Pedone.
Pre-orders will begin May 8, 2014 on the crowdsourcing platform Indiegogo with the goal of raising $50,000 to support the product launch. Upon reaching the goal, Quiet Punch will be able to fulfill interest from major boxing retailers to make this one-of-a-kind product widely available.
Chris Santos, celebrity chef and New York City restaurant owner, is a boxing enthusiast and investor in Quiet Punch. "Being a chef, it's not easy to stay in shape and hard to get to the gym, " says Santos, "I'm down 20lbs since I started using Quiet Punch."
Quiet Punch will also donate a portion of all proceeds to the Parkinson's Disease Foundation.
For more information and to support the campaign, please visit: http://www.QuietPunch.com
ABOUT QUIET PUNCH
Founder and 2008 BusinessWeek Top 25 Entrepreneurs 25 Years and Under nominee, Brian Pedone launched Quiet Punch in 2013. Quiet Punch is patent pending.