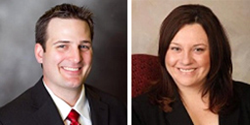 Atlanta, GA (PRWEB) May 07, 2014
Maid Right, a Premium Franchise Brands (PFB) residential cleaning franchise, and Inbound Lead Solutions (ILS), a social media and content marketing firm specializing in franchising, announced that PFB Vice President of Franchise Development Scott Thompson and ILS President Nicole Hudson will be featured speakers at BIA/Kelsey's LEADING IN LOCAL: The National Impact conference in Atlanta, Georgia on May 7-9. Thompson and Hudson will participate on a panel titled "SuperForum: The Local Imperative for Brands, Franchisees and Multi-Locations" scheduled at 3:30pm on the first day of the conference.
The duo will be discussing key components within the sales funnel for online lead generation in franchise sales. Some of these components include: a strong LinkedIn strategy with robust personal profiles for the executives and sales team, optimized company pages that highlight company culture, and new showcase pages that can drill down into the franchise opportunity.
"The sales process has changed," says Hudson. "Prospects are forming opinions, building deeper connections, and self-educating themselves on your brand or business opportunities long before they speak to a sales professional, walk in the door, or book a reservation."
Hudson shares that the key components she and Thompson will discuss help others to be "leaders and educators that can provide real value and connection during the decision making process."
Peter Krasilovsky, Conference Co-chair and Vice President of BIA/Kelsey states that their goal for the program is to "showcase the innovative digital strategies and best practices that are driving local revenues."
The conference will be located at the Sheraton Atlanta. Registration is available online at http://www.biakelsey.com.
-
About LEADING IN LOCAL: The National Impact:
BIA/Kelsey's LEADING IN LOCAL conferences are the definitive events on local digital advertising and marketing. LEADING IN LOCAL: The National Impact attracts a global audience of executive-level decision makers from across the local media and marketing landscape, including brands and agencies focused on the local market opportunity, companies engaged in local search, deals and group buying services, location-based services, local social media, traditional local media, classifieds, vertical media and ecommerce, local digital media suppliers and sector-focused investors and financial analysts.
About Maid Right | Premium Franchise Brands:
Premium Franchise Brands LLC is a franchise development company, representing Jan-Pro Franchising International, Inc, and Maid Right Franchising LLC. Jan-Pro was founded in 1991 by Jacques Lapointe in Providence, Rhode Island, with a desire to offer the highest quality cleaning techniques and systems available. Currently, the Jan-Pro team is comprised of business leaders with experience from around the world, as well as seasoned cleaning industry executives. Today, the international company structure is comprised of over 10,000 Master and Unit franchisees. Jan-Pro regularly receives inquiries and accolades nationally as well as internationally. Maid Right Professional Grade Home Cleaning is a franchise, focused on strong customer retention, and is currently being initially launched domestically in America.
To learn more about Maid Right, please email Scott.Thompson(at)premiumfranchisebrands(dot)com.
About Inbound Lead Solutions | Nicole Hudson:
Inbound Lead Solutions is a Marketing Technology Firm focused on integrated digital strategies in Social Media, Content Marketing, SEO and Lead Generation for franchising. The Founder, Nicole Hudson is certified in Hub Spot inbound marketing and chairs the Detroit user group (HUG). Her specialization in social media, franchising and multi-unit local marketing strategies has been recognized by Franchise Update Media Group with a Star Award, a recently released LinkedIn case study on Franchising Search Engine Optimization and Lead Generation. She has recently been published in a book collaboration with Bulldog Reporter (Infocom), The Advanced LinkedIn PR Handbook and recently hosted a Master Class PR University webinar with LinkedIn, Citi Bank, Dell and JCPR and developed social media strategies for two national television appearances, Be the Boss and Undercover Boss. Nicole is a member of the International Franchise Association, sits on the Marketing & Technology Committee, FranTech Task Force, and is a contributor to Franchising World Magazine, Blogger with Franchisingworld.com and regular speaker on social media, content marketing, local search, technology and lead generation.
To learn more about Inbound Lead Solutions, please email nhudson(at)inboundleadsolutions(dot)com.