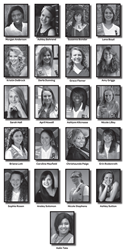 Georgia (PRWEB) May 06, 2014
Girl Scouts of Historic Georgia is proud to celebrate our 2014 Gold Award Girl Scouts; 21 outstanding young women who have earned the most prestigious award in Girl Scouting and collectively contributed thousands of hours of service through values-based, girl-led action projects that spotlight critical local, national and global issues. These 21 teens from Georgia were honored at formal ceremonies throughout the Council's footprint on May 4, 2014.
The Girl Scout Gold Award is the highest honor a Girl Scout can earn. It recognizes the work of Senior and Ambassador Girl Scouts, 9th – 12th graders, who have outstanding accomplishment in the areas of leadership, community service, and personal development. Each girl working toward the Girl Scout Gold Award spends a minimum of 80 hours planning and implementing a leadership project that puts the Girl Scout Promise and Law into action and makes a positive and lasting impact on her community.
This year's recipients are:

Morgan Anderson, Troop #12102, Athens, "Butterfly Dreams Sensory Trail"
Ashley Behrend, Troop #20308, Evans, "Teens Against Texting"
Susanna Bondar, Troop #20151, Martinez, "Illustrating to Improve Reading"
Lena Boyd, Troop #60268, Monticello, "Veterans of Jasper County Georgia"
Kristen Debrock, Troop #11819, Winder, "Operation WDYB Beautification"
Darla Dunning, Valdosta, "Keeping the Pantry"
Grace Flemer, Valdosta, "Green and Giving"
Amy Griggs, Evans, "A Stitch in Nine"
Sarah Hall, Troop #30064, Statesboro, "Raising Awareness for Foster and Adoptive Parents"
April Howell, Troop #40483, Thomasville, "Head Start Picnic on a Sunny Day"
Ashlynn Kilcrease, Troop #60102, Macon, "Maze to Success"
Nicole Lilly, Troop #60078, Warner Robins, "Backpack Project"
Briana Lott, Troop #12021, Colbert, "Costume Room Makeover"
Caroline Mayfield, Troop #60268, Macon, "Sidewalk to Success: Butterfly"
Chrishaunda Paige, Troop #30394, Hinesville, "Dance and Cheer Camp"
Erin Rodenroth, Troop #60102 Macon, "Compass to Success"
Sophie Rosen, Troop #60102, Macon, "Geometric Shapes for Success"
Ansley Solomon, Troop #12102, Athens, "Providing Athens Regional Pediatrics with the Enjoyment of Art"
Nicole Stephens, Troop #11856, Monroe, "KIDS – Keep Inspired Dance Strong"
Ashley Sutton, Troop #30315, Kingsland, "Life Jacket Station"
Kalin Tate, Troop #50359, Columbus, "Anti-bullying Video and Pamphlets for the School District"
(For information about each of these Gold Award projects, please see the attached "GSHG Gold Award Project Descriptions" document.)
Girl Scouts is the preeminent leadership development organization for girls in the world. The Girl Scout Leadership Experience and award process encourages girls to discover, connect and take action on the issues most important to them. Girl Scouting builds girls of courage, confidence and character who make the world a better place. For more information about Girl Scouts of Historic Georgia, visit gshg.org.