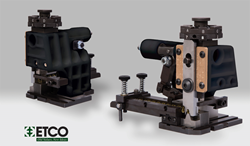 Bradenton, Fl (PRWEB) May 13, 2014
ETCO Incorporated today announced it will be holding a drawing for one lucky winner visiting its booth at the Electrical Wire Processing Expo in Milwaukee, Wisconsin on May 14th and 15th 2014. The giveaway is scheduled to coincide with the launch of several new and updated products from ETCO. One of the newest products that is launching at the show is the composite-based EDGE-C Wire Termination Applicator. ETCO will also show an updated line of connectors including its Closed Back Insulated Connector product.
Being foremost a company focused on new engineering, ETCO wanted to provide attendees to its booth a chance to win one of the most innovative products available to consumers in 2014. The Pebble watch interfaces with Android and iPhone products to provide a new way to get information without having to constantly use a smartphone. ETCO engineers have been a big fan of the product and will be giving one away to a lucky booth attendee at the Wire Processing Expo.
To enter the giveaway, simply visit ETCO's booth #1221 at the Electrical Wire Processing Expo on May 14th and May 15th. The winner will be announced 30 days after the show ends on the ETCO website at http://www.etco.com.
The EDGE-C applicator will be available for viewing at Electrical Wire Processing Technology Expo in Milwaukee, Wisconsin on May 14th and 15th at ETCO booth# 1221.
For more information visit http://www.etco.com or contact an ETCO representative at 800-689-ETCO (3826).
Founded in 1947, ETCO is a privately owned company. The Company manufactures precision stampings and rubber and plastic molded products used principally by major automotive and appliance manufacturers. ETCO also has major customers in a variety of other industries in the USA and over 30 countries throughout the world. ETCO has factories and a research complex in Bradenton, Florida and a factory and engineering center in Warwick, Rhode Island.
ETCO is not affiliated in any way with Pebble Technology, nor is Pebble Technology a sponsor or endorser of this giveaway. Pebble is a trademarked copyright of Pebble Technology Corporation.