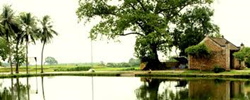 (PRWEB) May 07, 2014
Smiletravelvietnam.com was founded in 2008 and is considered as a leading travel agency in Vietnam. Recently, the Smile Travel Vietnam company has provided a special offer: one-day tour to Duong Lam village.
"Hanoi is the beautiful capital of Vietnam. Most of tourists spend time to visit some historic places such as the Temple of Literature, Hanoi Flag tower and Ho Chi Minh mausoleum complex. But it is a very big regret if travelers ignore a small ancient village in the outskirt- Duong Lam village," said the Chief Executive of the company.
Duong Lam village which is located in Son Tay Town (some 60km to the west of Hanoi Capital), is the first ancient village recognized as a national relic by the Ministry of Culture and Information.
The ancient village has a history of about 1,200 years with many houses dating back up to 400 years. One special thing about the village is that most of the buildings here are made of laterite and mud, two materials that are abundant in the area. Laterite is used on house walls, gates, wells, temple walls, and so forth. The mud is taken from ponds. Apart from its historical and tourism values, Duong Lam ancient village is an important place for scientists to study resident communities in ancient agriculture. The village gate, banyan, well, communal house are important factors in classifying Duong Lam ancient village. Truthfully, it would make more sense to start with a tiny village in the Vietnamese hinterland and then work tourists way up to a big city.
Tourists will be picked up at 9:00 am at their hotel lobby, then will be driven about 65 km from Hanoi to Duong Lam, the agricultural village of the Northern Red River Delta. On arrival, you will take a walk on the village path to visit Mong Phu Temple (dedicated to national heroes) King Ngo Quyen Temple and King Phung Hung Temple. The holidaymaker will enjoy a special Vietnamese lunch in an ancient house and the local food such as soft green-lentil cake and rice cake filled with brown onion (depending on the season). In the afternoon, continue to visit Mia Pagoda (built in 15th century) and admire 287 statues of all sizes before transfer back to the tourist's hotel in Hanoi.
Please contact: sales(at)smiletravelvietnam(dot)com or call: +84 976 127 023 for further details.