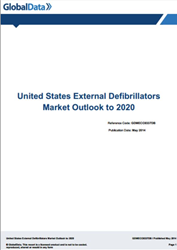 Rockville, MD (PRWEB) May 07, 2014
United States External Defibrillators Market Outlook to 2020
GlobalData's new report, United States External Defibrillators Market Outlook to 2020, provides key market data on the United States External Defibrillators market. The report provides value, in millions of US dollars, and volume (in units) and average price data (in US dollars), within market categories - Manual Defibrillators, Professional AED and Public Access AED.
The report also provides company shares and distribution shares data for each of these market categories, and global corporate-level profiles of the key market participants, pipeline products, and news and deals related to the External Defibrillators market wherever available.
The data in the report is derived from dynamic market forecast models. GlobalData uses epidemiology and capital equipment-based models to estimate and forecast the market size. The objective is to provide information that represents the most up-to-date data of the industry possible.
The epidemiology-based forecasting model makes use of epidemiology data gathered from research publications and primary interviews with physicians to establish the target patient population and treatment flow patterns for individual diseases and therapies. Using prevalence and incidence data and diagnosed and treated population, the epidemiology-based forecasting model arrives at the final numbers.
To order this report:
United States External Defibrillators Market Outlook to 2020
Contact: Shauna
800.298.5699
customerservice(at)marketresearch(dot)com
GlobalData
GlobalData is the premier source of actionable insight into the energy and healthcare industries. With the combined expertise of more than 1,000 researchers, market analysts and consultants, we provide high-quality, accurate and transparent industry insight that helps our clients to achieve growth and increase business value.
MarketResearch.com
MarketResearch.com is the leading provider of global market intelligence products and services. With research reports from more than 720 top consulting and advisory firms, MarketResearch.com offers instant online access to the world's most extensive database of expert insights on global industries, companies, products, and trends. Moreover, MarketResearch.com's Research Specialists have in-depth knowledge of the publishers and the various types of reports in their respective industries and are ready to provide research assistance.
Follow us on Facebook: http://www.facebook.com/marketresearchdotcom
Follow us on Twitter: http://www.twitter.com/marketresearch_
United States External Defibrillators Market Outlook to 2020 - Table of Contents:
1 Table of Contents
2 Introduction
3 External Defibrillators Market, United States
3.1 External Defibrillators Market, United States, Revenue ($m), 2005-2012
3.2 External Defibrillators Market, United States, Revenue ($m), 2012-2020
3.3 External Defibrillators Market, United States, Volume (Units), 2005-2012
3.4 External Defibrillators Market, United States, Volume (Units), 2012-2020
3.5 External Defibrillators Market, United States, Average Price ($), 2005-2020
3.6 External Defibrillators Market, United States, Distribution Share by Revenue ($m), 2011-2012
3.7 External Defibrillators Market, United States, Company Share by Revenue ($m), 2011-2012
4 Overview of Key Companies in United States, External Defibrillators Market
5 Financial Deals Landscape
6 Recent Developments
7 Appendix