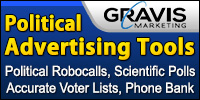 Gravis Marketing is excited to offer the program to political consultants and political consulting firms worldwide. This will lower rates and provide a better service to the client, said Doug Kaplan President and Founder of Gravis Marketing, Inc.
(PRWEB) May 06, 2014
Gravis Marketing is proud to announce they are offering a wholesale program to political consultants and political consulting firms. Partnerships and jobs are also available. These new wholesale rates are the most cost effective marketing strategies in the industry. Regardless of size, whether you have a small local campaign or a grand, national one, they will customize their marketing plans based on your very specific campaign needs. By doing so, political consultants are free to focus on what truly matters in a campaign, winning.
As part of the wholesale program, Gravis is introducing their Robocall platform. Reaching registered voters is key to maintaining a strong political campaign. With a political robocalls from Gravis Marketing, political consultants can reach out in a cost-effective way to people registered on authenticated voter lists. This service offers voice messaging, text messaging and emails to voters through easy, automated systems. Throughout the campaign political consultants can update the messaging and adjust it to meet the needs and objectives of the election.
Also being offered at wholesale rates for political consultants is the gathering of key information regarding voter concerns. By using these polling and research methods, candidates will know exactly what issues to address throughout the entire campaign and adjust their strategies accordingly. Perhaps one of the most helpful features in gathering research, is the ability to gather feedback as well. Gravis Marketing goes the extra mile to obtain the crucial response from both decided and undecided voters to completely make an impact.
With service available in all 50 states and up-to-date voter lists, the micro-targeting offered to political consultants at a wholesale rate is what makes Gravis Marketing stand out in the industry and help candidates win campaigns. The targeted audience always gets the message and the candidate's voice on specific issues is heard louder and clearer.