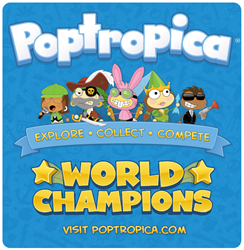 It is an honor to have the Cynopsis Kids' !imagination Awards recognize the contribution that the World Champions Player Map has made to growing the Poptropica brand.
Boston, MA (PRWEB) May 06, 2014
Poptropica is a finalist for its Poptropica Islands' World Champions Player Maps in Cynopsis Kids' third annual !magination Awards, recognizing the most outstanding cross-platform programming and marketing in the kids media industry. The popular virtual world for kids, which launched nearly seven years ago, added the interactive map in September 2013 to provide another way for players to celebrate their accomplishments.
On Poptropica, kids safely explore and play gaming-based stories with a deep narrative and unique challenge to solve. Kids hone their problem-solving skills by exploring rich environments and experiencing the story as it unfolds through their game play. Traditionally, the Top 10 players that finished a new quest would be announced on the official Poptropica blog. However, with millions of players on Poptropica each month, it was difficult to achieve a coveted spot on that list.
Now when a new quest is launched, an interactive Player Map launches with it. Kids can search for their usernames to find out their exact rank for completing the adventure. They can also filter the map to show the first 10, 100 or 1,000 finishers and drill down to see their fellow Poptropican players by U.S. state or country. The Player Map also shows all countries where kids have played that quest.
"The millions of kids who play Poptropica have always felt a great sense of accomplishment when they complete a quest. We added the World Champions Players Map to give them a stronger sense of accomplishment, strengthen their connection to the world of Poptropica and create a connection to other players around the world," said Jess M. Brallier, publisher of Poptropica. "It is an honor to have the Cynopsis Kids' !imagination Awards recognize the contribution that the World Champions Player Map has made to growing the Poptropica brand."
Hundreds of millions of kids have visited the virtual world for kids since its launch and the number grows every day. Poptropica players come from more than 200 different countries and territories and have their web browsers set to more than 100 different languages. Kids can stay up to date on news about upcoming new Islands and other exciting developments in the world of Poptropica on the official Poptropica blog.
About Poptropica (http://www.poptropica.com)
Poptropica is a virtual world in which kids explore and play in complete safety. Every month, millions of kids from around the world are entertained and informed by Poptropica's engaging quests, stories and games.
Kids create a "Poptropican" character to travel the many Islands of Poptropica and use gaming literacy to enjoy a narrative that is often rooted in factual history. Problem-solving skills are honed as kids discover and solve mysteries unique to each Island.
There are always new areas to explore in this ever-expanding world where kids can collect objects, read digital books and comics, watch movies and compete in head-to-head competition. Parents can always trust that their children are playing – and learning – in a safe online and mobile environment.
Poptropica is published by Pearson, the world's leading learning company.