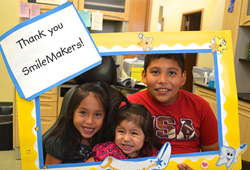 SmileMakers is proud to support National Children's Oral Health Foundation.
Charlotte, NC (PRWEB) May 08, 2014
Thanks to a generous donation of over 100,000 toothbrushes from SmileMakers to National Children's Oral Health Foundation (NCOHF), at-risk youth will receive the tools they need to protect their smile. Valued over $48,000, the toothbrushes will be given to children served by America's ToothFairy/Canada's ToothFairy non-profit clinical programs and community partners including the Orange County NCOHF Oral Health Zone Program®, Assistance League of Las Vegas, Rutgers School of Dental Medicine and Rutgers University Foundation, University of Washington School of Dentistry and the Saskatchewan Oral Health Coalition and Saskatchewan Dental Hygienist Association in Canada.
"SmileMakers is proud to support National Children's Oral Health Foundation," said Julie Quaranta, Healthcare Marketing Manager of SmileMakers Inc. "We applaud their efforts to prevent the needless suffering of vulnerable children from tooth decay in the U.S. and Canada."
"This generous donation of toothbrushes from SmileMakers will help protect young smiles by providing thousands of at-risk children with toothbrushes," said Fern Ingber, NCOHF President and CEO. "Their continued support of National Children's Oral Health Foundation helps ensure children in need have the healthy smiles they deserve."
About SmileMakers®
Founded in 1978, SmileMakers mission is to make smiles happen. The premier provider of products used to inspire, motivate, reward and celebrate, SmileMakers believes in the power of a smile. SmileMakers provides patient giveaways and practice promotions to the dental and medical markets; classroom incentives and aids to the education market; and party goods and gifts to consumers. From popular character themed children's items to officially licensed sports apparel and novelty items, SmileMakers carries the most in-demand themed products. With safety as a priority, all products meet or exceed Consumer Products Safety standards. Known for exceptional customer service, every sale is backed by the SmileMakers 100% Satisfaction Guarantee. With operations located in Spartanburg, SC and Ajax Ontario, SmileMakers serves customers through its US and Canadian websites, 1-800 number, and market-specific catalogs. For more information, please call 888-800-SMILE (7645) or visit http://www.SmileMakers.com.
About National Children's Oral Health Foundation: America's ToothFairy®
National Children's Oral Health Foundation: America's ToothFairy (NCOHF) is dedicated to raising awareness of the #1 chronic childhood illness: pediatric dental disease, facilitating the delivery of comprehensive oral health services and eliminating this preventable disease from future generations. With a growing Affiliate network of exemplary non-profit community programs, the America's ToothFairy Kids Club, professional and student service programs, America's ToothFairy is building a powerful, united effort to eliminate tooth decay and protect the smiles of our most vulnerable children. Also extending services in Canada as Canada's ToothFairy, NCOHF is reaching children throughout North America. For more information, please visit http://www.AmericasToothFairy.org.