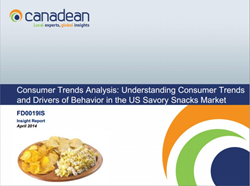 Rockville, MD (PRWEB) May 08, 2014
Consumer Trends Analysis: Understanding Consumer Trends and Drivers of Behavior in the US Savory Snacks Food Market
Understanding Consumer Trends and Drivers of Behavior in the US Savory Snack Food Market identifies the key demographic groups driving consumption, and what motivates their consumption. The report uses a unique method of quantifying consumer trends to highlight the degree of influence they have on consumption within the category. The report also identifies the most important trends within the market and shows whether beliefs over what influences consumer behavior within the category are accurate.
Get access to key consumer demographic groups driving consumption within the US market. The figures showcase the number of times consumers of specific ages and gender consume Savory Snacks, as well as identifying whether these demographic groups "over" consume in the category (i.e. they account for a higher proportion of occasions than the proportion of society they represent overall). Also, view Market value and volumes over 2008–2018 for the US and nine other countries to give a global context. Find out the degree of influence that the 20 key consumer trends identified by Canadean have on Savory Snacks consumption volumes, with granular analysis on the extent that degree of influences varies between gender and age group. Gain insight into the implications behind the data, and analysis of how the needs of will evolve in the short-to-medium term future, and see examples of international and US-specific product innovation targeting key consumer needs.
To order this report:
Consumer Trends Analysis: Understanding Consumer Trends and Drivers of Behavior in the US Savory Snacks Food Market
Contact: Shauna
800.298.5699
Customerservice(at)marketresearch(dot)com
Canadean
Canadean has long held a reputation with FMCG markets for providing specialist business information by conducting detailed industry and consumer research, supported by insightful value-added analysis. Canadean covers the entire spectrum of the consumer value chain from suppliers, brand owners, distribution channels and consumer insight.
MarketResearch.com
MarketResearch.com is the leading provider of global market intelligence products and services. With research reports from more than 720 top consulting and advisory firms, MarketResearch.com offers instant online access to the world's most extensive database of expert insights on global industries, companies, products, and trends. Moreover, MarketResearch.com's Research Specialists have in-depth knowledge of the publishers and the various types of reports in their respective industries and are ready to provide research assistance.
Follow us on Facebook http://www.facebook.com/marketresearchdotcom.
Follow us on Twitter http://www.twitter.com/marketresearch_.
Consumer Trends Analysis: Understanding Consumer Trends and Drivers of Behavior in the US Savory Snacks Food Market - Table of Contents:
Definitions
Market context
A desire for fun, convenient, and affordable options is driving Savory Snack consumption in the US
The US Savory Snacks market has a value of US$32.4 billion and is forecast to witness modest sales growth over the next five years
Processed Snacks and Potato Chips account for the majority of Savory Snacks market share by volume
There were over 83.1 billion Savory Snacks occasions in the US, with total consumption higher among older consumers
Across the globe, US Savory Snacks is the largest market in terms of value and volume sales
The US has the most attractive Savory Snacks market in the world in terms of volume consumption
Demographic cohort consumption patterns
Consumer trend analysis
Innovation examples
Recommended actions
Appendix