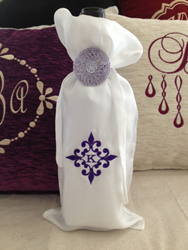 We're all about having fun, working with fashion, and offering excellent quality products, but we have to offer responsibly produced products, too.
La Quinta, CA (PRWEB) May 07, 2014
PGA Champion Tour Player John Jacobs and his wife Michelle are ready to change the world -- one monogram at a time. Along with Michelle's son and company vice president, Taylor Dalton, the co-founding power duo created Serendipity Monogram Designs.
With an eCommerce site that is launching this week, this socially responsible and certified green company offers a fresh array of products (from throw pillows to dog couture) with a personal touch and contagious passion. Each purchase will truly be one-of-a-kind. "Each product is unique because we offer over 25 luxury monograms and thread colors to personalize your purchase," says Michelle on the upcoming brand debut.
With a background in interior design and fashion, Michelle is no stranger to the retail world. She is passionate about running her business with a few goals beyond a healthy bottom line.
"We're all about having fun, working with fashion, and offering excellent quality products, but we have to offer responsibly produced products, too," says Michelle. "Using ethical trade, we're eliminating forced labor, helping women to learn, earn, and grow. We also try to be good stewards of our planet. We believe everyone deserves freedom, equal rights and opportunities, including Mother Earth."
The entire team's efforts are aimed at protecting exploited women and child workers around the globe. To start, Serendipity Monogram Designs only carries products that were not produced in unfair working conditions. "Women are the soul of the family," says Michelle. "When women learn a skill and earn a living, they become decision makers, provide education and health care for their families, and improve their communities."
The Jacobs want their site to be more than just a store, too. They want it to be a resource for education and awareness. "When it really sinks in that there are millions of enslaved people making our goods, it hurts the heart. Then, it's on to figuring out how to improve the system," says Michelle.
Interested shoppers can find out more about socially responsible and Fair Trade shopping from the site's Resources section.
From that first stitch to the final purchase, Serendipity Monogram Designs dog clothes, decorative pillows, and handbags are meant to help people. Not only are all products sourced from well-researched and responsible suppliers, but a portion of each purchase will support local charities: Desert Arc in Palm Desert, CA and Helen Woodward Animal Center near San Diego, CA.
About Serendipity Monogram Designs
Co-founders John Jacobs, PGA Champions Tour Player, and his wife, Michelle Jacobs, are set to launch Serendipity Monogram Designs - a unique and compassionate online retail business. The new eCommerce site will offer a wide selection of luxury embroidery monogram designs on handmade, Fair Trade, and American-made decorative pillows, purses and small dog apparel. To find out more, visit http://www.serendipitymonograms.com or the company's page on Facebook.