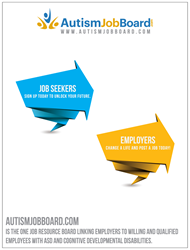 Chicago, IL (PRWEB) May 07, 2014
According to a report published in the Journal of Pediatrics, an estimated 500,000 youths with autism spectrum disorder (ASD) are expected to reach adulthood within the next ten years. These adults will hit the workforce and post-secondary education market like a brick with no jobs or real opportunities to have an independent life. A panel discussion at the AutismOne 2014 Conference on Friday, May 23 will explore cutting-edge opportunities and ideas for employment and vocational opportunities for adults with ASD. The panel will be led by Shannon Nash, Esq., CPA, founder of Autism Job Board, a new online tool that links employers to willing and qualified employees with ASD and cognitive developmental disabilities. Autism Job Board also features information for employers on best practices in hiring people with ASD, such as on-the-job supports and accommodations that may need to be made. It features tips and help for job seekers on how to find appropriate jobs. Panelists will include Dr. Mary Joann Lang, founder of Beacon Day School, on how job preparedness programs can and should begin in school in the adolescent years, and Noah Gerding, Admission and Development Coordinator at Minnesota Life College, on their 20+ year experience in helping people with ASD find meaningful employment opportunities.
Cathy Purple Cherry, AIA, Certified Autism Specialist and Principal, Purposeful Architecture, leads a Saturday workshop titled "Adult Residential Panel: Moving Mountains." As our children are transitioning to adulthood, parents are expressing great concern for their future housing. In addition, recent Medicaid reform seems to have created barriers for parent-desired disability specific communities. This all-day conference panel brings together a strategic team of service providers, developers, task force and state agencies, and parents to discuss specific housing options and financing strategies for successful housing solutions that are being created, such as Myers Place. Parents of transitioning and aging spectrum children are encouraged to join in this highly educational and informative session, with the goal of obtaining direct contact to leaders who can help impact future residential solutions. Panel members will include Betsy Benito, Director, Corporation for Supportive Housing (CSH-IL); Hugh Brady, Co-President, North/Northwest Suburban Task Force on Supportive Housing; Larry Pusateri, CEO, VeriGreen Development; Karen McDonough, Former Executive Director, Autism Society of Illinois; Cathy Purple Cherry, AIA, Certified Autism Specialist, Principal, Purposeful Architecture and Board Member, National Autism Society.
Autism specialists Dr. Jackie Marquette and Carolyn Gammicchia will lead a vocational workshop Friday morning called "Autism and Adulthood - Navigating a Course of Possibilities." This roundtable will feature an array of topics: planning to person-centered living, preparing for a career interest (i.e., employment, college), or designing self employment. Artistic talents will also be highlighted. The ultimate goal is to ensure self-determination, community inclusion, and pursuing life with meaning and purpose.
The AutismOne 2014 Conference will be held at the beautiful InterContinental Chicago O'Hare Hotel. To register: http://www.autismone.org/ao_conference_registration.