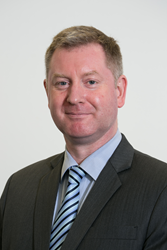 Ivan has worked tirelessly to grow and restructure our company's presence in Asia.
Morristown, N.J. (PRWEB) May 06, 2014
Ivan Keogh, senior vice president, has assumed direct leadership for Louis Berger's activities in India. Keogh assumes these responsibilities in addition to his ongoing role leading the company's overall activities in Asia.
"Ivan has worked tirelessly to grow and restructure our company's presence in Asia," said Jim Stamatis, president of Louis Berger's international operations. "I have great confidence in his ability to maintain that momentum while also taking on a more hands-on leadership role in India."
Keogh, who joined Louis Berger in 2012, has 20 years of experience in the region and has been resident in India since 2011 working on a variety of major infrastructure projects. Previously, he served as regional manager for India and Bhutan and resident director in the Middle East for major Australian and European firms.
Keogh is supported in India by operational division managers and a growing team of more than 800 professional engineers, senior experts and administration staff.
Louis Berger has been one of the longest-established firms in Asia with more than 40 years working in the region. Its regional operation is one of Louis Berger's largest and most diverse operations globally.
About Louis Berger
Louis Berger is a $1 billion global professional services corporation that helps infrastructure and development clients solve their most complex challenges. We are a trusted partner to national, state and local government agencies; multilateral institutions; and commercial industry clients worldwide. By focusing on client needs to deliver quality, safe, financially-successful projects with integrity, we are committed to deliver on our promise to provide Solutions for a better world.
Louis Berger operates on every habitable continent. We have a long-standing presence in more than 50 nations, represented by the multidisciplinary expertise of nearly 6,000 engineers, economists, scientists, managers and planners.