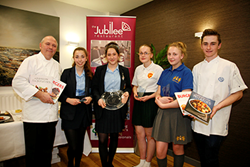 I am always amazed by the standards produced with dishes that would not look out of place in a top class restaurant.
Harold Hill, Romford, Greater London (PRWEB UK) 8 May 2014
An Executive Chef and a Commis Chef from two of London's top venues heaped praise on Melissa Davis, Viktoria Figula-Dera, Casey Joiner-O'Riordan and Eleanor Webb as the college's annual hunt for a young chef with the qualities to carve out a career in catering came to a conclusion.
After much chopping, stirring, grilling, roasting and even a little blow-torching, the coveted title of Havering and Brentwood Schools' Young Chef of the Year was awarded to 15-year-old Melissa, a Year 10 pupil at Coopers' Company and Coborn School.
Melissa, who was cheered on by mum Hilary and her teacher, Head of Food Technology & Textiles Sue Regan, produced a complex menu of Crusted Salmon with Minted Potatoes and a Crème brûlée.
Melissa said: "It has been an exciting experience. I already had experience of working under pressure in a kitchen from my work experience but this was quite challenging."
Her teacher Mrs Regan said: "The school are very proud of Melissa's achievement. She is a hard worker and she has a passion for the subject. She devised the menu herself and has done a lot of practice at home."
Melissa was presented with a glass trophy and her family will enjoy a dinner cooked in their own home by lead judge, celebrity chef Paul Gayler MBE, who is Executive Chef at The Lanesborough Hotel at Hyde Park and the author of 23 cook books.
Runners-up Drapers' Academy pupil Viktoria, 14, from Harold Hill; Blackmore resident and Brentwood County High School pupil Casey, aged 15, and 16-year-old Gaynes School pupil Eleanor, from Gidea Park, received individual trophies.
Havering College of Further and Higher Education launched the competition competition eight years ago to encourage young people to prepare and cook food, develop their knowledge and appreciation of fresh ingredients and give them a flavour for a career as a professional chef.
The 2014 competition kicked off earlier this year with a round of heats in seven schools. Thirteen winners of the schools' heats then participated in semi-finals which culminated in the exciting final held in the Hospitality and Catering training facility at the Havering College Quarles Campus in Harold Hill on Thursday, May 1st.
Supporters, who included teachers and families, watched the cooking action live thanks to a video link filmed by two of the college's Media students, Ali Saula and Chris Montengo.
All involved later enjoyed a three course dinner prepared and served by the college's Hospitality and Catering students in the on-site Jubilee Restaurant.
Lead judge Paul Gayler said: "As a chef with more than 40 years' experience, I do a lot of judging both here and abroad but I particularly enjoy this competition for young students. I am always amazed by the standards produced with dishes that would not look out of place in a top class restaurant."
Supporting judge Matt Smith, now a Commis Chef at London's five star Park Lane Hotel, is himself a former Young Chef competitor who went on to gain his catering qualifications at Havering College.
Matt said: "It's fantastic to be invited back into my old college as a judge I remember what it was like to be in the competition. I was every bit as nervous as these finalists."
For information on Catering and Hospitality courses at Havering College call Threshold Services on 01708 462801, email information(at)havering-college(dot)ac(dot)uk or visit the website at http://www.havering-college.ac.uk.
The Jubilee Restaurant is open to the public. For table reservations call the Restaurant Manager on 01708 462886.