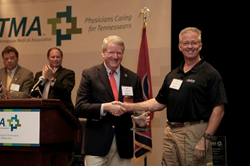 Nashville, TN (PRWEB) May 07, 2014
Friday, April 25th, 2014 Tennessee Medical Association presented annual awards during the TMA's 179th Annual Meeting in Franklin, TN. The Tennessee Medical Association is Tennessee's largest physician organization.
Crystal Hogg of TMA writes, "David Vanderpool was honored with the TMA 2014 Distinguished Service Award, presented annually since 1963 by the TMA Board of Trustees to exemplary members of the association for their notable achievements during the past year. Nominated by the Nashville Academy of Medicine, Dr. Vanderpool has spent a lifetime donating medical assistance and infrastructure to communities in developing nations. As Founder and CEO of LiveBeyond, a nonprofit organization that provides medical care, clean water and nutritional support in Haiti, Dr. Vanderpool is working to provide hospitals, orphanages, secondary schools and vocational schools in the region of Thomazeau, Haiti."
LiveBeyond is a 501(c)(3) organization that began as Mobile Medical Disaster Relief (MMDR) in 2005 in response to Hurricane Katrina. Founder and CEO Dr. David Vanderpool, a trauma surgeon from Brentwood, TN, visited Haiti in 2010, being one of the first medical personnel to respond to the earthquake that killed thousands of Haitians. It was during that time Dr. Vanderpool decided to shift his mission to have a primary focus on Haiti, thus changing the name to "LiveBeyond."
In April of 2013, Dr. Vanderpool and his wife, Laurie Vanderpool, made national news when they sold all of their possessions and moved from one of the nation's wealthiest residential areas to the poorest country in the world.
The LiveBeyond base is approximately 64 acres and is located in the region of Thomazeau, Haiti. A 60-bed guest house, The Hamilton House, was completed earlier this year, having been generously donated by Tracie & Scott Hamilton. Additionally, Live Beyond broke ground on their hospital in February with the help and partnership of Regional Care.
While there are numerous NGOs (non-government organizations) throughout Haiti, LiveBeyond is unique in that it does not focus on one single aspect of need. Instead, LiveBeyond encompasses health care, maternal care, education, agriculture, clean water, food & nutrition, community outreach, economic development & sustainability and orphan care.
More information on Dr. Vanderpool and LiveBeyond can be found at http://www.livebyeond.org.