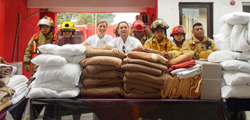 "We are grateful for Sunset World's generosity in improving the living conditions for our 144 heroic firefighters and our very important institution," said Tomas Hurtado
Cancun, Q. ROO, Mexico (PRWEB) May 19, 2014
As part of its ongoing social commitment to the local community, Sunset World Resorts & Vacation Experiences with resort properties in Cancun and the Riviera Maya, Mexico, has donated sheets, pillow cases, bedspreads, dishes and other kitchen and household items to fully equip the dormitories and kitchens of five firehouses in Cancun and two in the nearby areas of Puerto Morelos and Leona Vicario.
Annie Arroyo, Sunset World's Corporate Director of Brand and Public Relations and a Board of Trustees Member of the local Firefighter's Association, made the donation presentation to Tomas Hurtado, General Director of the Association. "We are grateful for Sunset World's generosity in improving the living conditions for our 144 heroic firefighters and our very important institution," Hurtado said. "Six months ago we had nothing, not even bedspreads. But now thanks to our hotel industry friends we have been able to equip our installations with what we need. We look forward to receiving other needed items, such as furniture, through contributions from wonderful companies like Sunset World.
Sunset World Resorts & Vacation Experiences offers all inclusive plans, its own marina, yacht club, equestrian center, rental car operations, wellness spas, golf privileges and travel services. In addition to the Hacienda Tres Rios Resort, Spa & Nature Park and Sunset Fishermen Resort in the Riviera Maya, Sunset World operates Sunset Royal Beach Resort, Sunset Marina Resort & Yacht Club, Laguna Suites & Spa and Ocean Spa Hotel in Cancun. For more information, go to http://www.sunsetworld.net.