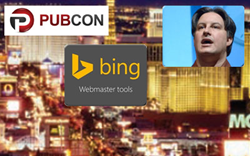 I'm excited to visit Pubcon in Las Vegas for this must-attend event, and look forward to discussing search and social and how their futures will impact businesses.
Austin, TX (PRWEB) May 06, 2014
Pubcon, the premier social media and optimization conference, is pleased to announce that Microsoft's Duane Forrester, senior product manager in charge of Bing Webmaster Tools, will present a keynote address during Pubcon Las Vegas 2014, the search marketing event of the year.
Forrester has over a decade of experience in direct search and online marketing, including planning ad campaigns, managing ad buys, and running e-mail programs, and is the author of two business books for digital marketers published by McGraw-Hill, including "How To Make Money With Your Blog and Turn Clicks Into Customers."
"I'm excited to visit Pubcon in Las Vegas for this must-attend event, and look forward to discussing search and social and how their futures will impact businesses," Forrester said of his upcoming Pubcon Las Vegas 2014 keynote, which will take place during the week of October 6 – 9.
Forrester's specialties include search optimization, effective negotiation training, and dedicated platform pay-per-click (PPC) bid management, among others.
Forrester is founding co-chair of the in-house search engine marketing (SEM) committee at Search Engine Marketing Professional Organization (SEMPO), and was formerly on the group's board of directors.
Previously Forrester managed search engine optimization (SEO) for MSN, and prior to that he worked for Caesar's Palace casinos in Canada, running successful marketing and on-site promotions.
Forrester is noted for his expertise in PR, direct marketing, and event planning, among other areas, and will bring his unique experience and enthusiasm to Pubcon Las Vegas 2014 attendees.
Pubcon Las Vegas 2014 will feature more keynote addresses than any event in the conference's 15 year history, as Forrester joins a keynote lineup that already includes noted serial entrepreneur Ted Murphy, founder, chief executive and chairman at IZEA, and New York Times bestselling digital marketing author Jay Baer, who are just a few of the major keynote speakers that will be announced in the coming weeks.
Registration for Pubcon Las Vegas 2014, highlighted by hundreds of the key influencers who are shaping the future of the Web and new media, all speaking in diverse multiple topic sub-conferences with hundreds of great conference panel sessions, is now open and available at early-bird rates.
Join Forrester, Murphy, Baer, and other top industry keynote speakers for Pubcon Las Vegas 2014 during the week of October 6 – 9 at the Las Vegas Convention Center in the entertainment capital of the world, including the latest Pubcon Masters Group training program, a vast expo hall, and the exclusive second annual U.S. Search Awards.
Learn more and register at http://www.pubcon.com.
About Pubcon
Pubcon is a multi-track educational conference hosted by Pubcon Inc. Pubcon, supported by the industry's leading businesses, speakers, exhibitors, and sponsors involved in social media, Internet marketing, search engines, and online advertising, offers an in-depth look at the future of technology presented by the world's top speakers in provocative cutting-edge sessions.
For more information about the conference, contact Brett Tabke at 512-231-8107 or brett(at)pubcon(dot)com.
For more details about sponsorship and exhibition opportunities, contact Conference Director Jeff Randall at 512-686-1295 or jeff(at)pubcon(dot)com.