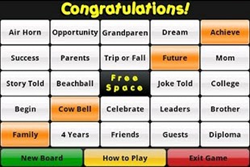 Graduation BINGO - Making Graduation More Fun!
Fairfax, VA (PRWEB) May 07, 2014
Graduation BINGO: Making graduation more fun than ever this year.
Friends and family can now enjoy graduation news, games and videos while waiting for their loved ones to file to their seats. Breaking Grad News stories, including how Rutgers students forced former Secretary of State Condoleezza Rice to back out of her speech are featured on the website. Fun Grad Videos like "The Graduation Song" and every stunt you ever saw at a graduation ceremony are also listed. Grad Games pitting commencement speakers Steve Jobs against Bill Gates in "Who spoke fastest" and the "Who's Speaking Where" concentration game will also help pass the time.
But the real fun starts with the ceremony itself, and we aren't talking about bouncing beach balls. (Although we do think they are very fun.) The free Graduation BINGO App challenges guests to actually listen to the speeches they once silently thought could not end soon enough. When a phrase is heard (memories or the future) or an activity observed (cow bell rung or beach ball bounced) that square on the Graduation BINGO game board is selected until five squares are lined up for BINGO. Players compete against the clock and each other to score five-in-a-row, inside-box, out-side box and full board BINGO. The game plays familiar refrains of "Pomp and Circumstance" with each winning score.
This spring's Graduation BINGO features new custom games for universities from regions across the country, including the University of Georgia, Penn State, Nebraska, USC, Harvard, Stanford and many more. And for the first time ever, friends and family can customize the App with a unique dedication message for their graduate free of charge.
Graduation BINGO was founded in 2011. Its creative team works each spring to help graduates, their friends and families survive yet another season of never ending processions and boring speeches. The Graduation BINGO App and our website were created by our media partner, Dotzoo.com. Graduation BINGO – Making Graduation More Fun!