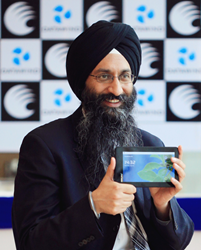 Suneet Singh Tuli is one of those people who understands perfectly what low-cost access means. It is not about creating the iPad killer it is about changing education for billions of people.
New York, New York (PRWEB) May 06, 2014
The Intelligent Community Forum today named Suneet Singh Tuli, 44, the co-founder and CEO of DataWind Ltd., as Intelligent Community Visionary of the Year for 2014. The Intelligent Community Visionary of the Year Award is presented to an individual or an organization that has taken a leadership role in promoting broadband technology and applications as an essential and transformative utility in the Digital Age. Mr. Tuli was cited for the development of the Aakash II/UbiSlate tablets, which the Intelligent Community Forum believes will revolutionize access to knowledge for billions of people and stabilize communities in the process. The tablet is the world's cheapest computer, according to Forbes Magazine.
Discussing the selection of Suneet Singh Tuli, a native of India, as the Forum's Visionary of the Year, Intelligent Community Forum co-founder Lou Zacharilla said, "Suneet is one of those people who understands perfectly what low-cost access means to the future of the community. His tablet and platform, which is sold for under US$40, can change the game for 'the other four billion' who, through no fault of their own, have found themselves on the wrong side of the digital divide."
DataWind's Aakash/UbiSlate tablets – a line of affordable mobile Internet devices – have been a truly revolutionary product. The Aakash II, launched in 2012 at the United Nations by UN Secretary General Ban Ki Moon, has begun to empower people in ways never before imagined. Forbes Magazine named Mr. Tuli as one of the world's top 15 classroom revolutionaries. Using this device, Tuli and DataWind hope to completely change education in the developing world.
In response to the award Mr. Tuli commented, "I am humbled and honored to receive this distinction. It is a great privilege for me and DataWind to be part of the Intelligent Community Forum, a global initiative that is dedicated to empowerment and inclusion of the digitally disenfranchised. DataWind is committed to continue and discover newer ways of breaching the affordability barriers for Internet access and in effect help the next four billion join the Internet age."
More about Suneet Singh Tuli
Since receiving a Bachelors of Applied Science in Engineering degree from the University of Toronto, Mr. Tuli has over 23 years of experience as a serial entrepreneur, having launched two successful companies prior to DataWind. At DataWind and previous ventures, he patented technologies that were created to develop scanning, printing and imaging products that set world records in both price and performance. The products created through these ventures have received numerous awards and accolades, including recognition by the Guinness Book of Records.
The 2014 Intelligent Community Visionary of the Year has previously been recognized by Forbes magazine in its 2012 Impact 15 list as a "classroom revolutionary" using innovative technologies to reinvent education globally. He was also named the 2012 Entrepreneur of the Year at the World Sikh Awards.
One of his best-known quotes is about his mission. Mr. Tuli said, "I don't care about creating the iPad killer. I care about the four billion people who can afford this device."
Past Honorees
The Intelligent Community Forum has presented the Intelligent Community Visionary of the Year award annually since 2005. Previous recipients include Blackberry Founder Mike Lazaridis; Australia's Minister for Broadband, Communications and the Digital Economy, Senator Stephen Conroy; Finland's former Minister of Communications Suvi Linden; New Brunswick (Canada) Premier Shawn Graham; Andre Santini, Mayor of Issy-les-Moulineaux, France; Scot Rourke, CEO of OneCommunity in northeast Ohio; Pedro Cerosola, Mexico's Secretary of Communications and Transportation; Amirzai Sangin, Communications Minister of the Islamic Republic of Afghanistan; and the founders of Wikia, Angela Beesley and Jimmy Wales.
About Intelligent Community Forum
The Intelligent Community Forum studies and promotes the best practices of the world's Intelligent Communities as they adapt to the demands and seize the opportunities presented by information and communications technology (ICT). To help communities build prosperous economies, solve social problems and enrich local cultures, the Intelligent Community Forum conducts research, hosts events, publishes newsletters and books and produces its high-profile international awards program. Since 1999, the Intelligent Community Forum has become an international movement that attracts the attention of global leaders, thinkers, and the media. The Intelligent Community Foundation consists of 126 cities and regions that have been designated as Intelligent Communities through its global awards program, and which participate in an ongoing global dialogue to strengthen local economies, conduct business and solve complex problems. For more information, go to www intelligentcommunity dot org.
Intelligent Community Forum Contacts
Matt Owen
Communications Manager
Intelligent Community Forum
Phone: 001-646-291-6166 (x105)
Email: mowen at intelligentcommunity dot org
Paul Brent
Senior Communications Specialist
market2world communications inc.
Phone: 001-613-256-3939
Email: paul at market2world dot com