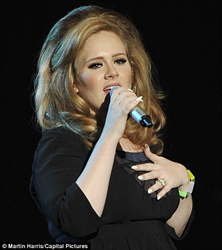 New York, NY (PRWEB) May 08, 2014
Adele is releasing her third studio album in October 2014, according to MStarz Music. She has been out of the spotlight for almost three years after suffering from vocal complications and this year she will make her comeback. Ryan Tedder of OneRepublic is working with her on this upcoming release, which is rumored to be more stripped down compared to her previous releases. Tedder commented on Adele's international success and the fact that she is going to do everything on her own terms this time around: "When you sell 30 million albums, on one album, she can do whatever she wants to do until forever."
Fans and industry executives alike are anticipating her new album this fall. One One 7, an international entertainment corporation, represents some of the writers, engineers, and producers responsible for a couple of the smash hits from Adele's certified Diamond release, "21." The One One 7 roster includes Philip Allen, who engineered and recorded "Someone Like You," as well as Jerrod Bettis, who co-wrote "Rumour Has It." Bettis has also worked closely with Tedder and OneRepublic as a writer and a producer.
Stormie Rae, Senior Vice President of Operations for One One 7, commented on the upcoming release: "In 2011, Adele proved that she was capable of being an unrivaled international superstar with the success of her album, "21." Whether Adele releases a powerhouse pop single or an intimate, soulful ballad, I fully expect that she will continue to raise the bar for pop music. Adele is just one of many mainstream artists that has exemplified the importance of excellent songwriting, which is our main focus with our artists and songwriters at One One 7. Adele has worked with the best, including Philip Allen and Jerrod Bettis who are part of our deep roster, and through her work with them found herself winning American Music Awards, Grammys, and Academy Awards."
Her upcoming album is rumored to be titled, "25," following her first releases, "19" and "21," according to Billboard.com.
Sources
MStarz: http://www.mstarz.com/articles/29403/20140421/music-news-adeles-new-album-scheduled-for-october-2014.htm
Billboard: http://www.billboard.com/articles/columns/pop-shop/6077490/adele-new%20album-25-twitter-tease