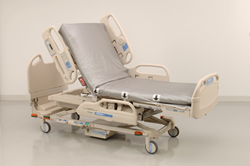 "Seton is always striving to develop better ways to improve patient outcomes. By using this new technology, our patients have benefited greatly," says Troy Reiff, Executive Director of Operations, St. Vincent Seton Specialty Hospital.
Batesville, IN (PRWEB) May 09, 2014
St. Vincent Seton Specialty Hospitals cut its infection rate in half using a launderable hospital mattress cover and were awarded, along with Xavier University, an Honorable Mention for the National Association of Long Term Hospitals (NALTH) 2014 Goldberg Innovation Award. This award was earned for a groundbreaking quality improvement initiative using a launderable mattress cover to prevent serious hospital-acquired infections and the parallel research effort that documented the benefits of this initiative. Systematic use of launderable mattress covers at St. Vincent Seton Specialty Hospitals was able to reduce the number of Clostridium difficille (C. diff) infections by 49% when compared with the pre-intervention rate of infection. Reductions in C. diff infections were similar in both Seton facilities. Clinically, C. diff is one of the most common and most serious hospital acquired infections. In September 2013, the CDC report titled "Antibiotic Resistance Threats in the United States" lists C. diff as one of the top three pathogens that are an urgent threat. Each year in the United States, C. diff infects hundreds of thousands of patients and kills an estimated 14,000 people. This research found that hospital-wide implementation of the launderable mattress covers had not only a positive clinical impact, but also a positive financial impact to hospital operations, saving an estimated $213,092 per year. In addition to the financial benefits that occur on an operational basis, C. diff infections are one of the Hospital Acquired Infections (HAIs) that can result in a reduction in Medicare payments for all hospital DRGs if not adequately controlled. This research collaboration between Xavier University, St.Vincent Health System and Trinity Guardion has been in place since 2011 examining, first, the mechanism through which the launderable mattress covers act and now through documenting the clinical and financial benefits their systematic use provides.
Dr. Edmond Hooker, principal investigator in this study noted that "The systematic implementation of the Trinity Guardion mattress system at these two hospitals resulted in dramatic clinical improvements for the patients through reduced rates of hospital acquired C. difficile infections and savings from the perspective of the operating cost profiles of these two hospitals. The health care system needs more examples of innovation with this type of performance. It improves care while generating savings for hospitals."
Mr. Bruce Rippe, Chief Executive Officer of Trinity Guardion and Xavier University alumnus, said, "It is gratifying when three years of research on our products yields this magnitude of benefit to patients while providing savings to hospitals. We appreciate the leadership of St. Vincent Health System and Xavier University in documenting the value of this common sense approach to hospital infection control."
St.Vincent Seton Specialty Hospital is a premier long-term acute care hospital that treats critically ill patients who remain in the hospital for an average of 25 days with complex, specialized treatment programs. Services offered range from ventilator management, complex infusion therapy, intensive respiratory therapy, complex wound care and infusion therapy. These types of services are offered for patients who are recovering from complicated strokes, renal failure, multi-system failure, pulmonary/medical rehabilitation, complex wounds and surgery and more. The faith-based hospital, which is accredited by The Joint Commission, worked for three years assisting Trinity Guardion in the development of mattress covers and laundry processes through a clinical trial period, and was the first in the United States to implement the Trinity Guardion technology. "Seton is always striving to develop better ways to improve patient outcomes. By using this new technology, our patients have benefited greatly," says Troy Reiff, Executive Director of Operations, St. Vincent Seton Specialty Hospital.
Xavier University is a private university located in Cincinnati, Ohio, providing a liberal arts education in the Catholic, Jesuit tradition. Founded in 1831, the university is the sixth-oldest Catholic university in the nation. U.S. News & World Report ranks it No. 4 among master's-level universities in the Midwest, and The Princeton Review names it as one of the "Best 377 Colleges in America." Xavier offers a graduate degree program in Health Services Administration, which is ranked No. 1 by Modern Healthcare.
Trinity Guardion is a commercial stage company, located in Batesville, Indiana, focused on reducing hospital infections through novel barrier protective methods. For further information contact the company's C.O.O. Bruce Rippe Cell: 513-519-8241 or visit http://www.trinityguardion.com.