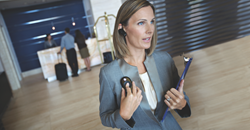 Motorola Solutions CLS and CLP Series two-way radios have proven their value across a range of industries, notably retailing, grocery, hospitality, security, and healthcare.
(PRWEB) May 07, 2014
BearCom, a nationwide provider of wireless communications equipment and solutions, today announced its participation in a Motorola Solutions promotion that rewards purchases of six CLS or CLP Series radios with a free seventh radio or radio accessories.
The offer, which runs through June 30, 2014, gives buyers of six CLS Series radios a choice from among a free CLS Series radio, six RLN6423 swivel earpieces ($210 value), or a CLS multi-unit charging tray (56531), which is a $200 value. Buyers of six CLP Series radios can choose from among a free CLP Series radio, six HKLN4487 surveillance earpieces ($240 value), or a CLP multi-unit charging tray (HKPN4007), a $225 value.
"We are very pleased to make this special offer in partnership with Motorola," said BearCom President & CEO Jerry Denham. "The CLS and CLP Series two-way radios have proven their value across a range of industries, notably retailing, grocery, hospitality, security, and healthcare. Organizations in these industries should take special notice of this offer and take advantage of the savings before they expire on June 30."
Motorola CLS Series two-way radios are simple, rugged, and reliable, with intuitive controls that are easy to use. They are versatile, so they can fit any workplace, any budget, and any style. The Motorola CLS1110 and Motorola CLS1410 are very affordable and don't require the use of a speaker-microphone.
The CLP Series two-way radios from Motorola Solutions are even smaller and lighter, and they include an earpiece that offers more discreet communications. Because the Motorola CLP1010, Motorola CLP1040, and Motorola CLP1060 include only the essential elements, they are very easy to use. Detachable faceplates can be branded with company colors or logos. They can also be integrated with repeaters to improve range.
"Many organizations using two-way radios are looking for models that are easy to learn, simple to use, and economical to buy," said Hugh Johnston, Product & Purchasing Manager at BearCom. "For them, I highly recommended the Motorola CLS1110 and CLS1410, as well as the Motorola CLP Series, which includes the CLP1010, CLP1040, and CLP1060."
Johnston said, "Organizations often ask about the return on their investment in two-way radios. We tell them that if a radio can help a minimum-wage employee save just five minutes an hour, that employee's CLS or CLP radio will pay for itself in just six to eight weeks."
For more information about Motorola CLS and CLP Series two-way radios, please visit BearCom.com or call 800.527.1670.
About BearCom
BearCom provides a broad line of high-performance wireless communications products, services, and complete mobility solutions. Founded in 1981, BearCom is America's only nationwide dealer and integrator of wireless communications equipment, serves customers from 26 branch offices located throughout the U.S., has several affiliated offices around the world, and employs approximately 400 people. BearCom is headquartered in the Dallas, Texas area. For more information, visit http://www.BearCom.com and http://www.TodaysWirelessWorld.com.