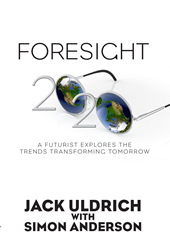 The future may be unknowable. This does not, however, imply we can't be prepared for it.
Los Angeles, CA (PRWEB) May 28, 2014
Global futurist and best selling author Jack Uldrich is often asked, "What exactly does a futurist do?"
Audience members and clients have said Uldrich "gets people thinking." And two of the primary things Uldrich wants clients to start thinking about are: how quickly technology is escalating; and how to embrace it so that it actually enhances one's life and business, rather than overwhelm them.
Uldrich likes to call this "future-proofing." He notes that robotics, sensors, gene-sequencing, big data and wearable technology (just to name a few) are waves of the future that will affect everyone. And Uldrich says they are "doubling at an astonishing pace. Society, over the next ten years will go from having thousands of robots to having millions...from millions of sensors to billions of sensors. Economic opportunities will belong to the people who can ride the waves of the coming technology and utilize it to their advantage."
"My job as a Futurist," says Uldrich, "is to help them see what's on the waves and to anticipate the next wave."
Some of the topics that he regularly addresses are included in this Article: Five Foreseeable Future Risks. Highlights from his keynotes also often include how business leaders and innovators can learn to "embrace ambiguity;" why finding a "reverse mentor" could be crucial; and why taking small risks may very well be the safest thing people can do to position themselves for success in the years to come.
In the past year, Jack Uldrich, who is also recognized as a leading expert in the field of change management and unlearning, has addressed hundreds of organizations both nationally and internationally. He's currently making the rounds with include Verizon Wireless' Connected Technology Tour, and he has addressed the AMA, Chu Vision Foundation, Fiatech, TEXPERS the Million Dollar Round Table in Malaysia, and The Allan P. Kirby Lecture Series at Wilkes University.
Another hot topic for Uldrich is the concept of "unlearning." A view of at his thoughts on "unlearning" can be viewed in this video clip. His next engagement is in Anaheim, with the Verizon Wireless Connected Technology Tour.
Parties interested in learning more about Jack Uldrich, his books, his daily blog or his speaking availability are encouraged to contact Amy Tomczyk at (651) 343.0660.
Jack Uldrich is a renowned global futurist, technology forecaster, best-selling author, editor of the quarterly newsletter, The Exponential Executive, and host of the award-winning website, http://www.jumpthecurve.net.