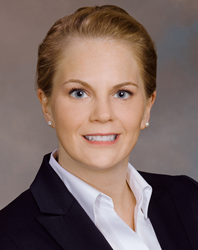 We are working on several levels to implement policies and procedures required to ensure compliance with applicable laws and regulations. Kimberly has the capabilites to assist with this implementation.
Miami, FL (PRWEB) May 12, 2014
North American Title Group has promoted Kimberly L. Sledd to legal and regulatory compliance specialist, reporting to General Counsel Jeff Howeth. Sledd had previously served as vice president of sales, marketing and business development for the Mid Atlantic region of North American Title Co., an agency subsidiary.
"The regulatory environment for title and escrow entities has changed dramatically with the assumption by the Consumer Financial Protection Bureau (CFPB) of responsibility for administration and enforcement of RESPA," said Howeth. RESPA is the federal Real Estate Settlement Procedures Act that has governed many aspects of residential real estate closings for 40 years.
"It is more important than ever to operate in a compliant manner," added Howeth. "We are working on several levels to implement policies and procedures required to ensure compliance with applicable laws and regulations that affect the company's operations across both its agency and underwriter subsidiaries or that are required under the American Land Title Association Best Practices framework. ALTA Best Practices are gaining increased acceptance both within our industry and throughout the broader financial services industry.
"We are fortunate to have found Kimberly already within our company," he said. "She has the capabilities to assist with research, development and implementation of these enhanced policies and procedures – and to educate and train our associates to follow them."
Sledd has more than 14 years' experience in global business services, title insurance and mortgage lending. Previous to her arrival at North American Title, she served as a strategic account executive for a global firm offering financial and technology solutions for lenders, brokers and services.
"While I will miss Kimberly's sales and marketing leadership within our division, I am confident her talents will be used even more effectively on a national level to accomplish this crucial initiative," said Maria Deligiorgis, Mid Atlantic division president, North American Title Co.
"At North American Title, we are committed to mitigating risk through sound business practices that include empowering associates with the knowledge and support to remain compliant," said Sledd. "I feel privileged to be a part of this vital effort, and I look forward to supporting executive management as we continue developing an even stronger value proposition for our stakeholders."
Sledd has a bachelor of science degree in management with honors from the University of Phoenix and has received an executive leadership certificate from Cornell University. Her office will be located in Richmond, Virginia, and she will be traveling to corporate offices in Miami and Dallas as necessary.
About North American Title
With well over 1,000 associates and a vast network of branches from coast to coast, North American Title (NAT) is among the largest real estate settlement service providers in the United States. Consisting of both agent and underwriter operations, NAT reported annual net revenues in fiscal 2013 of $185 million. The company also has the resources and stability of an S&P 500 company with over $11.0 billion in assets (fiscal quarter ending Nov. 30, 2013). North American Title's agency network operates nationally under the name North American Title Co. (NATC), and is located in 17 of the fastest-growing states: Arizona, California, Colorado, Delaware, Florida, Illinois, Indiana, Maryland, Minnesota, Nevada, New Jersey, New York, Pennsylvania, Texas, Utah, Virginia and Washington, D.C. Through our relationship with our expanding affiliate network, NATC provides real estate settlement services in all 50 states. NAT is headquartered in Miami, Fla. To learn more, visit http://www.nat.com