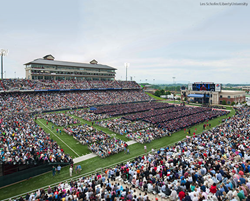 Lynchburg, VA (PRWEB) May 06, 2014
Liberty University is preparing to welcome an estimated crowd of 34,000 at its 41st Commencement ceremony, scheduled for 10 a.m. on Saturday, May 10, at Williams Stadium. Liberty will honor close to 17,500 graduates from its residential and online programs; close to 6,200 will be participating in the Commencement exercises.
The Class of 2014 will hear from Louisiana Gov. Bobby Jindal, the keynote speaker, as well as President Jerry Falwell.
More than 85 percent of the graduating class — Liberty's largest to date — will have completed their degrees online. About 9,000 post-graduate and doctoral degrees will be conferred.
Liberty is proud to celebrate over 5,000 military graduates.
On Friday, May 9, special events will be taking place throughout the day, including a reception for all graduates and their families, commissioning ceremonies for military graduates, a Military Graduate Recognition Ceremony, and the university's annual Baccalaureate service. Baccalaureate, a time of spiritual reflection, will take place in Liberty's Vines Center at 6 p.m. with the keynote address by acclaimed author and Christian intellectual Eric Metaxas.
View Liberty's full Commencement schedule.
Top majors of graduating class

Top five online undergraduate majors
o Psychology
o Interdisciplinary Studies
o Religion
o Business
o Criminal Justice

Top five online graduate/doctorate majors
o Human Services
o Master of Education
o Master of Business Administration
o Professional Counseling
o Master of Divinity
Top five residential undergraduate majors
o Business
o Psychology
o Communication Studies
o Nursing
o Religion
Top five residential graduate/doctorate majors
o Juris Doctorate
o Master of Divinity
o Master of Theology
o Human Services
o Professional Counseling
Media Note: Streaming video of the entire Commencement will be available at http://www.LibertyChannel.com, and accommodations can be made, upon request, to provide an "in-house" HD or SD pool feed via satellite and/or the LTN content delivery system. Contact the Liberty University News Office at (434) 592-4955.
About Liberty University
Liberty University, founded in 1971, is the largest private, nonprofit university in the nation, the largest university in Virginia, and the largest Christian university in the world. Located near the Blue Ridge Mountains on more than 7,000 acres in Lynchburg, Va., Liberty offers more than 350 unique programs of study from the associate to the doctoral level. More than 180 programs are offered online. Liberty's mission is to train Champions for Christ with the values, knowledge, and skills essential to impact tomorrow's world.