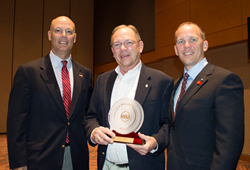 Frank Brownell's half-century in the business of supplying all the gear gun enthusiasts need and want epitomizes what the Golden Bullseye Pioneer award is all about.
Montezuma, Iowa (PRWEB) May 07, 2014
Frank Brownell, Chairman of the Board of Brownells, was recognized by the National Rifle Association with the Golden Bullseye Pioneer Award on Friday, April 25, 2014, at a special breakfast during the 143rd NRA Annual Meetings & Exhibits in Indianapolis, Indiana.
The Golden Bullseye Pioneer Award is presented by NRA Publications, and recognizes unique, long-tenured individuals who have made a significant impact on the firearms and hunting communities by introducing new and innovative products and solutions. Brownell, the 12th recipient, joins Dick and Jim Cabela, Steve Hornady, Ronnie Barrett, Melvin Forbes and other well-known industry leaders who've also been so honored.
"Frank Brownell's half-century in the business of supplying all the gear gun enthusiasts need and want epitomizes what the Golden Bullseye Pioneer award is all about," said John Zent, Director of NRA Publications. "The Pioneers are a select group of tenured, shooting-industry high-achievers whose life's work paved the way for the rest of us, and who are committed to supporting NRA's mission. Frank's service to America's shooters—always adhering to the company creed of 'Service. Selection. Satisfaction.'— has helped to keep us all on target."
Brownell, who'll turn 75 this June, is best known for his leadership of the 75-year-old Brownells, the Iowa-based supplier of firearms accessories, gunsmithing tools, and now archery and survival gear. Outside of his company, Brownell is president of the NRA Foundation and is active on NRA Youth Committee and Whittington Center boards.
Furthermore, his deep love for and commitment to the NRA Whittington Center in Raton, NM, lead to his building the Frank R. Brownell Museum of the Southwest, which features guns from the period and from famous shooters, and helps visitors learn about the firearms and battles that helped shape the great American Southwest. One of the four museums in the NRA family of museums, its rotating displays contains famous firearms from the NRA Firearms Museum at national headquarters in Fairfax, VA.
"I'm tremendously honored to have been chosen for this award," said Brownell. "It's a great privilege to join the others who are Pioneer Award winners – some mighty big names in the group. I want to thank the editors of all of the NRA Publications for selecting me, but I most especially want to thank the whole Brownells crew, past and present, for helping Brownells grow into what it is today, and for making me look famous."
In addition to his Pioneer Award, Zent presented Brownell with a poster-sized copy of the February 1957 cover of American Rifleman which depicted a then 17-year-old Frank Brownell, on his way with his dad, Bob, to his first guided hunt with famous stock maker, Leonard Brownell in the Crazy Woman Creek area of north east Wyoming – a rifle slung on his shoulder, glassing a scenic landscape.
Brownell has received numerous awards during his nearly lifelong tenure in the industry. In 2011, he was featured on the cover of the Blue Book of Gun Values holding his favorite firearm – a Modern Sporting Rifle – the first one ever shown on the cover. In 2006, he was named "Man of the Year" by Shooting Industry magazine, and was named "Person of the Year" by SHOT Business magazine in 2012. Frank and his son, Pete, are both members of the prestigious NRA Golden Ring of Freedom and are involved in numerous sponsorships with the NRA and the NRA Whittington Center.
Founded in 1939, Brownells provides premier firearms parts, ammunition, gunsmithing tools, reloading components, survival gear and archery products to customers worldwide. Brownells is dedicated to unmatched Selection, unrivaled Service and absolute Satisfaction, as proven by their industry-exclusive 100-percent Forever Satisfaction Guarantee on every product sold. Additionally, their professional gun and archery techs are available to answer customer questions on nearly any firearm- or archery-related issue, free of charge. Consumers may order or get more information by calling 800-741-0015 or visiting http://www.brownells.com.