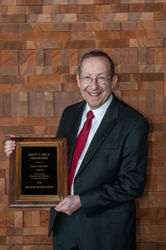 "Dr. First is the perfect recipient," said Theodore Sectish, MD, Boston Children's Hospital
Burlington, VT (PRWEB) May 08, 2014
Lewis R. First, M.D., M.S., F.A.A.P., chief of pediatrics at Vermont Children's Hospital at Fletcher Allen Health Care and professor and chair of pediatrics at the University of Vermont College of Medicine, is the 2014 recipient of the Joseph W. St. Geme, Jr. Leadership Award – considered the highest honor in the field.
The award is given by the Federation of Pediatric Organizations, a coalition of the nation's seven major pediatric associations, and recognizes one physician per year for their "broad and sustained contributions to pediatrics that have had or will have a major impact on child health".
"Dr. First is the perfect recipient," said Theodore Sectish, M.D., executive director of FOPO and professor of pediatrics at Boston Children's Hospital. "He is an outstanding educator and clinician, and a national leader in educational policy and professional certification."
Here are some key positions Dr. First holds that have contributed to his deep influence on how pediatrics is taught and practiced:

Editor-in-chief of Pediatrics, the official peer-reviewed journal of the American Academy of Pediatrics, and most influential publication in the field
Chair of the National Board of Medical Examiners
Co-editor of the most recent edition of Rudolph's Textbook of Pediatrics, which is widely used in medical schools throughout the U.S. and beyond.
"We're incredibly proud of Dr. First for receiving this prestigious award, but even prouder of the dedication he shows every day to providing the children of our region with the highest quality of care," said John Brumsted, MD, president and CEO of Fletcher Allen.
First, who joined UVM/Fletcher Allen in 1994, is currently one of the longest-standing pediatric department chairs in the U.S. A Harvard faculty member from 1985 to 1994, he held several leadership positions at Boston Children's Hospital including director of education for the Division of General Pediatrics, and director of medical student pediatric education in the Department of Medicine.
Visit http://www.fletcherallen.org/FirstAward for more information on Dr. First, video reaction from colleagues, and links to his popular "First with Kids" parenting videos.
See reactions from colleagues here https://www.youtube.com/watch?v=IgjNtgot63U.
About Fletcher Allen
Fletcher Allen Health Care, together with our partners at the University of Vermont College of Medicine and the College of Nursing and Health Sciences, is Vermont's academic medical center. Fletcher Allen and Central Vermont Medical Center are members of Fletcher Allen Partners, established to develop a more coordinated system of care throughout the region. Fletcher Allen's mission is to improve the health of the people in the communities it serves by integrating patient care, education and research in a caring environment. Fletcher Allen also serves as a regional referral center -- providing advanced care to approximately one million people in Vermont and northern New York -- and as a community hospital for approximately 150,000 residents in Chittenden and Grand Isle counties. For more information about Fletcher Allen, find us online at http://www.fletcherallen.org or on our Facebook, Twitter, YouTube, and blog sites at http://www.fletcherallen.org/socialmedia.