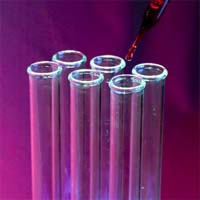 Fibrinogen predicted treatment benefit achieved by surgery with multimodality therapy.
Raleigh, NC (PRWEB) May 08, 2014
Blood tests for certain kind of proteins have the potential to improve the diagnosis and treatment of pleural mesothelioma. Surviving Mesothelioma has just posted an article detailing several important new studies on these biomarkers. Click here to read it.
In one of the studies, doctors in Northern Europe found that the glycoprotein fibrinogen was an independent prognostic indicator and could help predict how mesothelioma patients would respond to treatment.
"Fibrinogen predicted treatment benefit achieved by surgery with multimodality therapy," writes the University of Vienna's Bahil Ghanim, MD, lead author of the fibrinogen study which included 176 mesothelioma patients.
The study, published in the British Journal of Cancer, found that mesothelioma patients whose blood levels of fibrinogen were below the 75th percentile were the ones most likely to do well after surgery, regardless of their other risk factors.
"The good news for mesothelioma patients is that clinicians can potentially glean a great deal of valuable information from a blood draw, a test that is simple, fast, and relatively painless," says Surviving Mesothelioma's Managing Editor Alex Strauss. As more research becomes available, the accuracy of blood testing for mesothelioma and other cancers is likely to improve.
For more information on the fibrinogen research and two other important biomarker studies, see Protein Biomarkers in Mesothelioma Diagnosis, Prognosis and Treatment, available now on the Surviving Mesothelioma website.
Ghanim, B et al, "Circulating fibrinogen is a prognostic and predictive biomarker in malignant pleural mesothelioma", February 18, 2014, British Journal of Cancer, pp. 984-990, http://www.ncbi.nlm.nih.gov/pubmed/24434429
For nearly ten years, Surviving Mesothelioma has brought readers the most important and ground-breaking news on the causes, diagnosis and treatment of mesothelioma. All Surviving Mesothelioma news is gathered and reported directly from the peer-reviewed medical literature. Written for patients and their loved ones, Surviving Mesothelioma news helps families make more informed decisions.