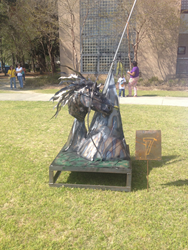 Florence, SC (PRWEB) May 07, 2014
ESAB Welding & Cutting Products sponsored the fifth annual Florence-Darlington Technical College's Welding Sculpture Competition on Saturday, April 12, 2014 at the Francis Marion University Arts International Festival. Teams of professional welders and welding students from across the Pee Dee region were given eight hours to turn scrap metal into welded sculptures fitting the competition's Spirit of America theme.
The welded artwork was judged by an independent panel of local sculptors. In the professional division, the team from Singleton Steel Company of Sumter, South Carolina won first place with their sculpture of a wild Mustang set against a mountain backdrop and accented by a feathered bow representing the Indian nation. Honda of South Carolina in Timmonsville took second place with their sculpture that gave tribute to America's "national pastime," baseball. Members of both teams were awarded high-performance welding helmets and gloves from ESAB.
Welding students from Florence-Darlington Technical College won the amateur division and a grand prize of $5,000 worth of ESAB equipment of their choice for their artwork depicting a soaring American eagle with wings fully outstretched. Taking second place with their rendering of America's national bird was Central Carolina Technical College, winning $2,500 worth of ESAB equipment of their choice as well as one of the five PowerCut® 900 plasma cutting systems ESAB provided for the competition.
All of the artwork was auctioned off at the end of the competition. Close to $10,000 was raised to benefit the FDTC Welding Student Scholarship Fund.
The FDTC Welding Sculpture Competition combines art, manufacturing and education to create an awareness of Florence-Darlington Technical College's educational offerings and to provide scholarships for students in key industry growth areas.
ESAB partnered with Florence-Darlington Technical College in 2001 to establish a professional welding program and has traditionally outfitted the FDTC Welding Program with a range of welding and cutting equipment in support of FDTC's efforts to educate students in this vital industry.
ESAB Welding & Cutting Products is a recognized leader in the welding and cutting industry. From time-honored processes in welding and cutting to revolutionary technologies in mechanized cutting and automation, ESAB's welding consumables, equipment, and accessories bring solutions to customers around the globe. For more information, visit http://www.esabna.com or call 1-800-ESAB123.