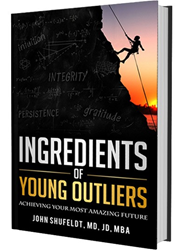 Everyone needs a mentor, whether virtual or otherwise in order to spur each other on to achieve their goals.
Scottsdale, AZ (PRWEB) May 08, 2014
Outliers Publishing is thrilled to announce the second book in the Outlier Series, Ingredients of Young Outliers: Achieving Your Most Amazing Future, is now available now through October 10, 2014 as a free eBook download to NetGalley members. Anyone may obtain a NetGalley membership at no charge, and it is particularly suited for the needs of bloggers, journalist, booksellers, educators, and members of the media for review, purchase or distribution. For a membership to NetGalley, click here and choose the digital format that best suits the specifications of your device and eReader application.
As a courtesy to the publisher and in an effort to help Authors like John Shufeldt, NetGalley members are encouraged to create an online review by accessing the book's review profiles like Amazon and Goodreads page or publishing a professional or blog review.
Outliers Publishing decided to make Ingredients of Young Outliers: available on Netgalley after generating interest with local schools for Close Reading material and as a student leadership guide. Author John Shufeldt was inspired to write the book by two local fifth and eight grade classes, whose students took to the original book in the Outlier Series, Ingredients of Outliers: A Recipe for Personal Achievement, and requested a student leadership book from the author. Outliers Publishing and Author John Shufeldt decided a complimentary online version of the book would be the best way for middle school and high school teachers, school counselors, academic and student leadership programs nationwide to access the material.
Author John Shufeldt's goal in writing Ingredients of Young Outliers was to serve as a surrogate mentor to young people, incorporating his most valuable lessons, while also sharing the less highlighted stories of notable individuals who faced challenges on their way to success.
"Everyone needs a mentor, whether virtual or otherwise in order to spur each other on to achieve their goals," said Shufeldt.
Ingredients of Young Outliers will be followed by at least 8 other books over the course of 2014 through 2015. The books are intended for students, college graduates and anyone interested in entering or furthering their career. The goal of the series is to offer books specific to sought after career fields with insider information and recommended channels for pursuing that career from experts in each respective profession.
About Ingredients of Young Outliers:
Ingredients of Young Outliers: Achieving Your Most Amazing Future is a 165-page life guide geared toward young adults who want to alter their own starts and explore life's many opportunities. With nearly instant access to information and opportunities seemingly everywhere, finding one's passion, and determining the best future is becoming increasingly difficult. The question looms in every young adult's mind- "what major do I choose" or "which career should I pursue." In Ingredients of Young Outliers: A Student Handbook to Success, author John Shufeldt explores the traits of extraordinary individuals identified over nearly three decades of his professional career. While guiding young readers through these characteristics, he inspires them to step outside of their comfort zones and join the ranks of the outliers. His approachable and humorous style applied to very personal and inspirational stories, are geared toward helping young adults navigate their future opportunities and goals.
About the author:
Author John Shufeldt received his BA from Drake University in 1982 and his MD from the University of Health Sciences / The Chicago Medical School in 1986. He completed his Emergency Medicine Residency at Christ Hospital and Medical Center in 1989 where he spent his final year as Chief Resident. He received his MBA in 1995, and his Juris Doctorate in 2005, both from Arizona State University. He is admitted to the State Bar in Arizona, the Federal District Court and Supreme Court of the United States. Shufeldt is an adjunct professor at the Sandra Day O'Connor College of Law where he teaches a clinic on Health Law Entrepreneurism. And he also serves on the Drake University Board of Trustees and the Sandra Day O'Conner College of Law Alumni Board.