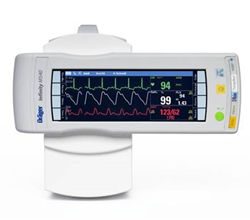 Draeger's easy-to-use monitoring and IT solutions streamline workflow, giving clinicians more time to focus on direct patient care, which supports patient safety goals.
Telford, PA (PRWEB) May 07, 2014
Today, Draeger announced a new agreement with Amerinet, Inc. that allows the organization to offer Draeger patient monitoring solutions to its members. Amerinet is a national healthcare solutions organization dedicated to helping members reduce costs and improve quality and safety.
Amerinet members include more than 3,100 acute care facilities, 3,000 ambulatory surgery centers, and 8,400 long-term care facilities. The agreement includes Draeger's Infinity patient monitoring portfolio, which creates greater efficiencies within acute care departments and across the hospital by helping to advance mobility, increase patient surveillance, and bring data to the point of need.
"As technology has grown more complex, clinicians often find themselves spending more time interfacing with technology and less time connecting with their patients," says Steve Menet, Senior Vice President of Sales, Hospital Solutions, Draeger. "Draeger's easy-to-use monitoring and IT solutions streamline workflow, giving clinicians more time to focus on direct patient care, which supports patient safety goals. We are very pleased that we can now offer this proven monitoring and IT technology to Amerinet members."
Infinity monitors provide secure hospital-wide patient surveillance via wired and industry-standard Wi-Fi wireless networks. Thus, clinicians have access to real-time patient data at the bedside, on transport, at the central station, and remotely via the hospital network. Widescreen workstations enable viewing of data from patient monitors, anesthesia devices, ventilation systems, lab results, charting information and more – all in one place at the point of care.
Amerinet members now have the opportunity to put Draeger monitoring technologies to work in achieving their Triple Aim goals. Triple Aim is a framework for optimizing health system performance. Adapted by many organizations, the Triple Aim goals are defined as:

Improving the patient experience of care (including quality and satisfaction)
Improving the health of populations
Reducing the per capita cost of healthcare
The Infinity Acute Care System (IACS), Draeger's flagship patient monitoring solution, includes Pick and Go technology that allows for seamless transfer from bedside to transport within the hospital without loss of data or changing cables. The patient-worn Infinity M300 monitor increases mobility for ambulatory patients with 100% real-time surveillance over an industry-standard Wi-Fi based network. Infinity Gateway Suite enables a secure exchange of patient data between the Infinity Network and hospital systems, as well as remote access to near-real-time vital signs data.
In addition to the new monitoring agreement, Draeger has exisiting agreements with Amerinet for ventilation, infant care, anesthesia solutions, and accessories.
To learn more about Draeger and its portfolio of medical and safety products, visit http://www.draeger.com.
Draeger. Technology for Life®
Draeger is an international leader in the fields of medical and safety technology. Our products protect, support and save lives. Founded in 1889, in 2013 Dräger generated revenues of around EUR 2.37 billion. The Draeger Group is currently present in more than 190 countries and has about 13,500 employees worldwide. Please visit http://www.draeger.com for more information.
About Amerinet, Inc.
As a leading national healthcare solutions organization, Amerinet collaborates with acute and non-acute care providers to create and deliver unique solutions through performance improvement resources, guidance and ongoing support. With better product standardization and utilization, new financial tools beyond contracting and alliances that help lower costs, raise revenue and champion quality, Amerinet enriches healthcare delivery for its members and the communities they serve. To learn more about how Amerinet can help you successfully navigate the future of healthcare reform, visit http://www.amerinet-gpo.com.