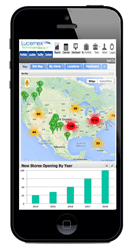 Our decision to select Lucernex was heavily influenced by their highly advanced security features ingrained within the Lx Retail and Lx Contracts systems
Dallas, TX (PRWEB) May 07, 2014
Lucernex Technologies announced today that Lifeway Christian Resources, operator of over 180 bookstores across 28 states, is now live on Lucernex's cloud-based Lx Contracts solution to manage its entire store portfolio.
"Our decision to select Lucernex was heavily influenced by their highly advanced security features ingrained within the Lx Retail and Lx Contracts systems", said Jeff Gilliam, Project Manager at Lifeway. "Moving to Lx Contracts allows us to get off of our legacy lease system and onto a modern, highly secure, cloud-based system".
The project included a legacy lease data conversion from SiteSeer as well as integrations into Lifeway's ERP, Oracle, all of which was completed in less than 17 weeks.
"Lx Contracts was selected largely due to our commitment to providing a highly secure True Cloud system specifically built for retailers", stated Joe Valeri, Lucernex President and Co-founder. "We take client data security very seriously. Our solutions are built with world-class data protection and are annually audited by a third-party resulting in three straight years of SSAE 16 Type II certification."
Lx Contracts is the Lease Administration and Rent Accounting module of Lx Retail, the market leading store lifecycle management and Retail IWMS solution delivered in the True Cloud. Lx Contracts serves as the system of record for your real estate contracts including leases, subleases, purchase agreements, franchise agreements, equipment leases and more. Lx Contracts can support any size portfolio of stores including currency, date and location support worldwide.
Lifeway started paying rent with Lx Contracts in February of 2014.
About Lucernex
Founded in 2000, Lucernex Technologies provides retail real estate professionals with powerful True Cloud solutions to manage the entire store lifecycle. All Lucernex solutions were designed "by retailers for retailers" and can manage any size portfolio of leased and owned properties. Advanced technology drives all Lucernex solutions ensuring they are fully mobile enabled, international, secure and easy to integrate with the enterprise. Lx Retail, from Lucernex, is the marketing leading Retail IWMS solution, used by Fortune 500 retailers every day to select, open and manage their stores better. For more information or to schedule a live product demonstration please visit http://www.lucernex.com.
About Lifeway Christian Resources
LifeWay Christian Resources is one of the world's largest providers of Christian products and services, including Bibles, Bible studies, research, church music and supplies, and digital services. The company owns and operates more than 180 LifeWay Christian Stores across the nation, as well as Ridgecrest (NC) Conference Center. Through its publishing division, B&H Publishing Group, LifeWay publishes books and has produced the widely-respected HCSB Bible translation. LifeWay is a nonprofit organization that reinvests income above operating expenses in mission work and other ministries around the world.
# # #