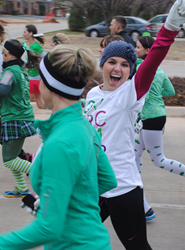 Richardson, TX (PRWEB) May 07, 2014
Brent Coralli, CEO of Sting Soccer and VOLA Athletic Apparel, posted his most recent blog - Brent Coralli Introduces a Determined Young Woman – today.
The blog talks about Brittany Swank, a 24-year old from Edmund Oklahoma, and her battle with Hodgkin's Lymphoma. Coralli first heard Brittany's story of survival from Kristi Warren, EVP and Director of Partnership Relations at VOLA. Kristi lives in Oklahoma City and is one of the co-founders of the "Run Lucky and Mission Mile" which benefits the Leukemia Lymphoma Society. She heard Brittany's story of determination from the team of friends she put together to run for her when she was unable to participate because of her treatment.
Learning about Brittany's strength and determination reminded Coralli why he got involved in Sting Soccer and VOLA athletic apparel. Kristi was absolutely right when she told him: "Brittany Swank is the poster child for VOLA mantra – Take Flight."
In the blog, Coralli interviews Brittany and talk about how it was just a regular day in 2012 when Brittany Swank felt a small lump in her throat. She didn't think too much about it until a doctor told her she had Hodgkin's Lymphoma. This cancer of the lymphatic system causes cells to grow abnormally and may spread beyond the lymphatic system. As Hodgkin's lymphoma progresses, it compromises your body's ability to fight infection. This disease can be fatal.
At Sting or VOLA, Coralli may encounter young women with personal challenges with which they are dealing. Some are related to family problems, some involve challenges with scholastics and others are personal challenges. Given the challenge that Brittany overcame, Coralli asked her what advice she would give another young women who's trying to overcome personal obstacles.
"Never give up," she immediately responded. "There are always hard days, but know that they will pass and you will come out on the other end. In my case, I rely on my faith to help me stay strong."
To read more about Brittany, go to Brent Coralli Introduces a Determined Young Woman.