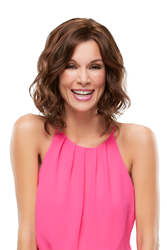 The brand is known for their wide selection of wig colors and lightweight products.
(PRWEB) May 08, 2014
Voguewigs.com is pleased to announce Jon Renau's new 2014 spring collection. From sharp pixie cuts to tousled waves, each piece from this collection captures the fun, lighthearted spirit of spring.
Jon Renau is dedicated to providing the most well-crafted wigs, hair extensions, and accessories to its valued customers. The brand is known for their wide selection of wig colors and lightweight products. Having been extensively covered by the media, Jon Renau is one of the most highly respected names in the wig industry.
No hairstyle looks more radiant under the sun than beach waves. This spring, women can wear beach waves with Jon Renau's Julianne Synthetic Wig. It is medium length, asymmetrically cut, and natural-looking due to its hand-knotted construction. Beach waves must look natural to do this hairstyle justice, so thank goodness Jon Renau made it ten times easier to pull this off.
The Kris Synthetic Wig is made up of ultra-short wispy layers. Because its layers are concentrated at the crown and its sides are thinned out, the wig has stunning volume at the top of the head. Additionally, this wig puts the spotlight on the wearer's facial features. Its short, side-swept bangs, for instance, place full emphasis on the eyes.
Though somewhat shaggy, the Judi Wig's silky texture gives it a type of sophistication reminiscent of the late, iconic Audrey Hepburn and Emma Watson. In the front, long bangs frame the face while the back is layered for definite shape.
The Top Form Human Hairpiece is designed to add volume at the crown. This hairpiece, which comes in 12" and 18" lengths, seamlessly blends in with natural hair. It has layered waves that gives noticeable movement and a silky smooth finish.
Pump up the volume with Jon Renau's Top Notch hairpiece, which has head-turning body and shine. Worn at the crown, this topper seamlessly blends in with natural hair and creates effortless volume. Its flexible styling options make it a great addition to an everyday look.
Every piece from Jon Renau's Spring 2014 Collection will give women a fresh and radiant glow this season. Ladies everywhere can hold their head high in a new look. After all, confidence is what truly makes all women beautiful.
Want to know more?
For more information on this collection, visit at http://www.voguewigs.com.
About Voguewigs.com:
VogueWigs.com offers the best collection of high-quality wigs and hairpieces. For every woman who wants the hair of her dreams, VogueWigs.com is here to help her get it.