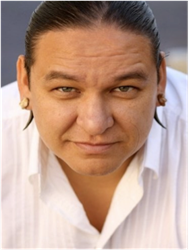 Santa Fe, New Mexico (PRWEB) May 06, 2014
The Southwest Association of Indian Arts (SWAIA), the private non-for-profit organization that produces the annual Santa Fe Indian Market proudly introduces Dallin Maybee as the Interim Chief Operating Officer. Dallin Maybee, Northern Arapaho and Seneca, was raised on the Cattaraugus Indian Reservation in Western New York, home of the Seneca Nation of Indians. His Arapaho name, Thunder Sound Comes Down, also loosely translates into A Thunder Being is Coming This Way. Dallin comes from a long-line of well-known beadworkers including Bob Spoonhunter, Agnes Logan, and Rebecca Maldonado; and his brother Ken Williams Jr. is also a renowned contemporary beadworker.
In 2007, Dallin won the Santa Fe Indian Market's prestigious Best of Show, Best of Division, Best of Classification and First place for a pair of children's books he designed and created. In addition to being an award-winning artist, international performer and lecturer, Dallin has a Juris Doctorate from the Sandra Day O'Connor College of Law at ASU. Dallin's work is in several public and private collections worldwide including the Smithsonian's National Museum of the American Indian.
Recently Dallin resigned from his position on the SWAIA Board to serve as Interim Chief Operating Officer. He does this with the support of his wife, Naomi Maybee–an attorney, beadworker, and dancer. Dallin is the father to two beautiful girls, Persephone Singing Water Maybee and Penelope Ojis' dondah'seh Maybee as well as a talented son, Sage Graystorm Maybee. In this capacity, Dallin will ensure the success of 2014 IM through coordination of booth assignments, logistical arrangements, and interaction with our various partners including the City of Santa Fe and its merchants, and close coordination with the artists themselves.
Dallin states, "I hope to bring my work ethic and history of success to SWAIA and the Indian Market. I was raised in a community based background of culture and family and my struggles and achievements will only lend themselves to working towards another successful and productive Indian Market." When reflecting on the organization Dallin asserts, "SWAIA represents an incredible cross section of some of the most beautiful aspects of Indian Country, We need artists and their families to be willing to continue to help SWAIA grow and evolve." He elaborates, "SWAIA's Indian Market cannot exist, it cannot be beautiful without the artists, yet that growth must come from proactive and positive efforts. This organization has overcome various obstacles during its long history and it will persist—I hope to contribute what I can to that beautiful, living piece of art that is the Santa Fe Indian Market." Dallin's remarks align with SWAIA's mission statement: Bringing Native arts to the world by inspiring artistic excellence, fostering education, and creating meaningful partnerships.
About SWAIA Santa Fe Indian Market
The Santa Fe Indian Market exists to provide a platform for established and aspiring Native/Indigenous artists to nurture and sell the art they create.
###
Contact: John Paul Rangel, PhD, Director of PR & Marketing, SWAIA, 505.983.5220, jprangel(at)swaia(dot)org