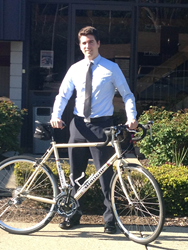 Drivers, please share the road; it's our lane too. Cyclists are counting on you to do your part to help keep them safe on the road.
Detroit, MI (PRWEB) May 07, 2014
May is National Bicycle Safety Month, and Attorney Sean Murphy wants to remind drivers to take extra care to watch for bicycles on the roads. "It's our lane too," says Murphy, an avid cyclist who handles mostly bicycle injury cases. "Unfortunately, many cyclists who are injured by motorists are doing everything right; we need drivers to share the road and be extra-careful to look out for bicycles." Murphy works with Attorney Jason Waechter, The Motorcycle Lawyer, and provides free information about cycling safety and the law at http://www.bicycleaccidentlawyersusa.com.
In recognition of National Bicycle Safety Month, Murphy and Waechter are launching their Top Five Bicycle Awareness Tips for Drivers. "We hope that cyclists will share these tips with their friends and families, and via social media, to let drivers know that we're counting on them to help keep us safe when we're out on our bikes," says Murphy.
#1: See the cyclist, not the bike.
#2: Look around you, then look again, before you move, stop, or open your door.
#3: Be extra cautious at intersections and always assume you will see a cyclist. Trick your brain into really looking for bicycles around you.
#4: Know what cyclists' hand signals mean, and try to give them as much space as you would a car or truck.
#5: Don't tailgate. There's no such thing as minor contact between a car and a bicycle. Tailgating is a bad idea regardless of what's in front of you.
For more information about bicycling safety and the law, visit http://www.bicycleaccidentlawyersusa.com. You can also follow Attorney Sean Murphy on Facebook to get up-to-date information about bicycling safety, the law, and cycling events in Michigan.
####
Attorneys Jason Waechter and Sean Murphy are Michigan attorney's specializing in bicycle accident and personal injury litigation. Waechter's firm has collected millions of dollars in settlements, awards, and verdicts for his clients over the last 20 years, as well as contributing significantly to safety education and accident prevention. For more information, visit their website at http://www.bicycleaccidentlawyersusa.com.