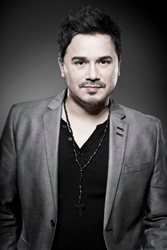 I thank God for all my training.
(PRWEB) May 06, 2014
Christians are called to "Go and make disciples of all nations," and AMTC believes that the entertainment industry is a "nation" in need of disciples. This is why John Montes, AMTC Scout and nationally known singer, is searching for actors, models, singers, comedians and dancers in Huntsville, Ala. on Monday, May 12 at the Von Braun Center.
Performers ranging from beginners to professionals, ages 4 and up, are invited to showcase their gifts and talents. If selected for a callback, those auditioning could be invited to join with AMTC and participate in The Bridge Training Program as well as the international SHINE Conference. AMTC gives opportunities to those who desire to make good bolder in fashion, film and theatre.
Montes is a scout, presenter and coach for AMTC. Since a young age, Christ has been shaping his heart to be involved in entertainment. He began touring with a band at age 12 and started to sing after high school. In the 2013-2014 season, Montes appeared on NBC's "Sing-Off" with the a capella group, "Ten." He has also had the opportunity to work with Sony and NBC. He said that Christ is the reason for his pursuit of the industry, "I thank God for my training – for all the successes and trials - and I pray He continues to keep me strong in what I've been put here to do."
Founded in 1982 by top NY model Millie Lewis and her daughter, Carey Lewis, AMTC is a non-profit organization that seeks to elevate, educate and equip God's talent to illuminate what is good. By providing fellowship, discipleship and hands-on training in all areas of entertainment, AMTC offers a unique and refreshing talent education.
Once performers go through IGNITE Orientation, LAUNCH talent training intensives, a photo shoot and styling, the SHINE conference begins! With between 50-100 leading agents, managers, casting directors and music professionals, SHINE is a time to perform, make lasting friendships and connect with VIP professionals.
The Huntsville auditions will be held at the Von Braun Center, 700 Monroe Street Huntsville, AL 35801. For more information, visit http://www.amtcaudition.com or call 1-800-STAR-420. For regular updates, follow AMTC on Twitter and Facebook.